Why Hasn't Capital One Dumped Alec Baldwin?
By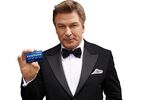 Update, 6:18 p.m.: Updated to reflect new details on Alec Baldwin's compensation from Capital One.
How long can Alec Baldwin, corporate endorsement artist, survive the bad behavior of Alec Baldwin, enraged citizen?
In recent years, Baldwin's gig as a frontman for Capital One has proven remarkably resilient. In an age where skittish brand managers carefully monitor social media platforms for the slightest blip of displeasure from potential customers, Capital One has somewhat surprisingly stuck with Baldwin through a flurry of public controversies, including getting kicked off a plane, allegedly calling a photographer a racial epithet, leaving a furious and insulting voice mail for his daughter—and, as of last week, directing antigay slurs at a reporter he was mad at on Twitter. (He has since apologized.)
Why hasn't Capital One dumped Baldwin the same way a handful of big brands recently dumped Paula Deen? For some conservative observers, the answer seems obvious. "Companies know the media won't beat them up for keeping Baldwin on board, despite his violent threat and homophobic comments," Dan Gainor, of the Media Research Center, recently told Fox News. "Why? Because he's liberal, and the same rules don't apply."
So far, Capital One execs have kept mum about their reasons for not publicly cutting ties with Baldwin. A spokesperson for the bank did not reply to an e-mail seeking comment. But experienced brand managers say there's another possible explanation for why Capital One is tolerating so much seemingly angry, offensive behavior on Baldwin's part.
Namely, it's not entirely out of character for the role they're paying him to play.
Allen Adamson, of brand consultant Landor Associates, points out that Baldwin is closely associated with Jack Donaghy, the character he played for seven seasons on NBC's (CMCSA) 30 Rock. On the sitcom, Donaghy is a conniving, hard-drinking, unapologetically retrograde business executive. Cruel and buffoonish behavior is part of his act. Fans will recall that at one point during the series, Donaghy helps create a "gay bomb" on behalf of the U.S. military; during another sequence, he smiles approvingly at a wisecrack about "gay juice."
"When Capital One hired Alec, they bought all the associations that come with him," says Adamson. "Because the 30 Rock character had such polarizing views, anything Baldwin does on Twitter—whether it's an outrageous comment or fighting with flight attendants—it tends to line up with that character. So people tend to cut him more slack."
Whereas Capital One pays Baldwin to look at ease goofing around with mace-wielding, pelt-wearing, stone-tossing barbarians, brands pay (or, rather, used to pay) Deen to project an aura of warmth, comfort, and Southern hospitality—an image that is diametrically at odds with some of the discomfiting allegations (PDF) that have recently surfaced in a lawsuit brought against Deen's company by a former employee. (A spokesperson for Baldwin declined to comment but pointed out that the proceeds from Baldwin's deal with Capital One go to charitable causes.)
All of which may help explain the apparent discrepancy in how the corporate world has reacted to Baldwin vs. Deen. "If you have the persona of being somewhat of a jerk, then you're less a target if you do jerky things," explains Adamson.
Richard Torrenzano, chief executive officer of the Torrenzano Group, says Baldwin is also benefiting from having done good deeds in the past within the community he most recently insulted. As a result, when Baldwin's apology was posted on the website of GLAAD, a leading LGBT advocacy group, it was accompanied by a quote from the organization's vice president in charge of communications, noting that "allies like Baldwin are right to use these moments to reinforce support for the community and LGBT equality."
Even so, says Torrenzano, "brands have to make judgment calls based on the number of dollars they've invested in the personality, the level of the outrage, the degree of the fallout for the brand coming from the personality, and a review of all the digital chatter, especially coming from the community that has been slandered." He adds: "They look at whether it's better to cut their losses or keep him. Baldwin has kind of had nine lives here. At some point, it'll catch him."
Being known as a fictional jerk on TV, says Torrenzano, will only protect you in real life for so long.
Before it's here, it's on the Bloomberg Terminal.
LEARN MORE