This Is Why People Hate the Federal Government
By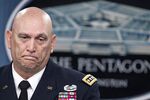 Sequestration is threatening our safety and security, or so Defense Secretary Chuck Hagel told Congress (again) yesterday. In a letter to members of the Senate Armed Services Committee, Hagel asked lawmakers to come up with a plan to stop the automatic spending cuts that would wipe $52 billion from the Pentagon's 2014 budget.
It's true that the sequester has already affected hundreds of thousands of Pentagon staffers: They're taking a 20 percent pay cut and getting furloughed one day a week all summer. (Some are being good sports about it, spending their first day off this week on a "Federal Furlough Five-Mile Fun Run.")
But here's the kicker: While Hagel is asking Congress not to take a knife to next year's budget, the Department of Defense is actually having a hard time spending all of this year's money. As Al Kamen at the Washington Post reports, at least one office within the Pentagon is practically begging its employees to "Spend the money! Spend it all! Spend it now!"
Kamen got hold of a memo issued by a top budget officer and top procurement officer at the Defense Information Systems Agency, which handles IT for combat troops. They write:
"Significant events and cut-off dates for submitting requirements for the FY13 End of Year closeout are quickly approaching. … Our available funding balances remain large in all appropriations—too large to spend on just UFRS [basically existing contracts]. Hopefully many packages will be processed by COB on Friday, 28 June 13, reflecting an increase in obligations and a reduction in our available balances."
The officials go on to request everyone's support in getting money out the door to get rid of "100% of our available resources this fiscal year."
Unlike in private companies, the federal government doles out money on a use-it-or-lose-it basis. If an agency hasn't exhausted its budget by September, the end of the fiscal year, Congress assumes the agency can get by with a smaller allotment the following year. So every summer, federal agencies race to spend down their coffers. Critics of government spending would decry the DISA officials' directive under any circumstance. In a year when automatic cuts prompt the secretary to declare he'll have trouble keeping the country safe, the exhortation to "Spend it all! Spend it now!" seems destined to spark even more outrage.
Before it's here, it's on the Bloomberg Terminal.
LEARN MORE