Raising the Minimum Wage to Keep D.C. Walmart-Free?
by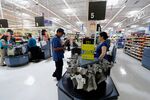 Wal-Mart Stores wants to open more branches in big cities, but some major metros haven't been so welcoming. New York, for one, and now Washington, D.C., where the city government just voted to approve a living-wage bill that will increase the minimum wage to $12.50 for employees of large retailers, namely Walmart.
The vote came a day after a Walmart executive wrote an op-ed in the Washington Post threatening to cancel plans to build three D.C. stores and review three others already under construction if the bill was approved. After the D.C. Council vote, Walmart spokesman Steve Restivo confirmed that the company would do as it said. He wrote in an e-mail: "This was a difficult decision for us—and unfortunate news for most D.C. residents—but the Council has forced our hand."
The bill, called the Large Retailer Accountability Act, classifies large retailers as those with stores of at least 75,000 square feet and whose parent companies have annual sales of more than $1 billion. Given the specifics, and the timing, many—especially those at Walmart—concluded that the only large retailer immediately affected would be the largest of them all.
Wages are a sensitive issue for any company, and particularly for the biggest private employer in the country. Walmart has already faced protests by workers, who are backed by a union and are asking for higher wages. The company says its average wage for full-time employees is $12.67 an hour, according to a letter it sent in April to activist Ralph Nader. Meanwhile, D.C.'s  current minimum wage is $8.25, a dollar higher than the national rate.
In the op-ed, Alex Barron, a regional general manager for Walmart who would oversee the D.C. stores, wrote:
"From day one, we have said this legislation is arbitrary, discriminatory, and discourages investment in D.C. We have gone to great lengths to have thoughtful conversations with Council members about why LRAA will result in fewer jobs, higher prices and a smaller number of total retail options. It means most shopping dollars will stay in the suburbs, unemployment will remain in the double-digits in some neighborhoods and underserved communities will continue to have disproportionate access to affordable groceries."
In the hours after the vote, Restivo reiterated that Walmart would review the legal implications of the bill's passage on the three stores already under construction.
The bill now heads to Mayor Vincent Gray, who will have 10 business days to sign or veto it. The mayor hasn't declared his intentions. But, according to NBC, he did send a letter to the D.C. Council before the vote, urging members to reconsider the bill. He also called Walmart's announcement "immensely discouraging."
Before it's here, it's on the Bloomberg Terminal.
LEARN MORE