PCs and Tablets Won't Be Marketplace Rivals for Long
by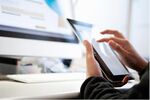 Everyone knows the market for personal computers is shrinking, so it wasn't surprising when Gartner (IT) and IDC published separate reports this week confirming that the number of shipments in the second quarter declined by more than 10 percent compared with the year before. The culprit, of course, is the tablet. You know, the fastest-growing product in the history of consumer electronics.
The frame of tablets stealing PC market share might not make sense much longer. Even if it doesn't soften the sting for fading makers of desktops and laptops, industry observers like Mikako Kitagawa, the Gartner analyst who worked on its report, are just waiting for the day when they can stop treating the two as distinct markets. "If you look at the consumers," she says, "they don't look at 'I'm going to PCs' or 'I'm going to use tablets.' They are going to buy whatever is available for them and what is convenient for them."
PCs and tablets are not stuck in a zero-sum game. Instead, PCs are the high end of a market that's expanding quickly—and largely at the lower end. In a report released last month, Gartner gave a bullish forecast for the overall device industry, which includes PCs, lightweight laptops such as Google's Chromebook (which Gartner calls "ultramobile" devices), tablets, and smartphones. The combined market is expected to grow more than 10 percent each year through 2017, Gartner says. Ultramobile device shipments are increasing the fastest but will remain the smallest portion of the market. Tablets will see explosive growth, while smartphone sales will improve steadily but more slowly, and PCs will make up a significant but shrinking slice of the pie.
Since the iPad was introduced, there has been a running debate about whether it was worth using for work, with passionate arguments made by both sides. For many people who might have purchased inexpensive PCs, tablets clearly do well enough. This is bad news for companies that sell only PCs, but it doesn't indicate much about the relative health of the computing market, which will continue to grow.
Before it's here, it's on the Bloomberg Terminal.
LEARN MORE