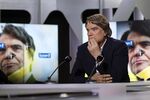 Bernard Tapie is France's Whack-a-Mole. During a colorful career, including a cabinet post and business interests ranging from professional soccer to filmmaking, the 70-year-old tycoon has been hit with bankruptcy, fines, and even a prison term—only to pop up again and again, seemingly as rich and well-connected as ever.
Now his luck may be running out. Prosecutors have charged him with fraud in a dispute stemming from the sale of the Adidas sportswear brand he owned in the 1990s. On July 10, Le Monde reported that magistrates had seized Tapie assets worth hundreds of millions of euros, including his Paris mansion, his St. Tropez villa, his holding in a French media group, and several bank accounts and insurance policies.
Unbowed, Tapie went on television the same evening, accusing authorities of "executing" him before trial. "They've indicted me, just to be able to seize my assets," he said in an interview on France's i-Tele network.
The indictment alleges that Tapie rigged a French government decision to approve a €385 million ($493 million) payout to him in the Adidas case, in which Tapie alleged he was swindled by formerly state-owned bank Crédit Lyonnais. Stéphane Richard, chief executive of French telecom giant Orange, also has been charged with fraud in the case. Richard was chief of staff to then-Finance Minister Christine Lagarde when she approved the award in 2008. Lagarde, now managing director of the International Monetary Fund, was questioned by magistrates but has not been charged. She has denied wrongdoing.
The accusation that Tapie conspired with members of former President Nicolas Sarkozy's center-right government is striking, considering his Socialist past. A protégé of former President François Mitterrand, he was elected to parliament in the 1980s and was named cabinet minister for urban affairs in 1992. By then he had become wealthy as a businessman who specialized in the recovery and resale of troubled companies, including Adidas. He also owned soccer and bicycle racing clubs.
He was forced to leave the cabinet in 1993, however, after being indicted in a match-fixing scandal involving his Olympique de Marseille soccer club. He was convicted and served about six months in prison. More legal troubles followed, including convictions for tax fraud and for financial irregularities at Olympique de Marseille and at another company he had headed. Barred from politics and from professional soccer, he turned to filmmaking, landing a role in a 1996 movie entitled Men, Women: a User's Manual.
Along the way, he switched political sides, backing Sarkozy's successful 2007 presidential campaign. A year later, an arbitration court ruled that Crédit Lyonnais had defrauded Tapie in the mid-1990s when it sold Adidas on his behalf to Robert-Louis Dreyfus, another French businessman. Then-Finance Minister Lagarde declined to appeal the award, saying in an interview earlier this year that it was the "best solution at the time."
By 2010, Tapie had been "rehabilitated," in the words of his lawyers at the time. He bought a yacht for €40 million and christened it Reborn.
Could Tapie still make a comeback? According to Le Monde, the yacht is not among the assets seized by authorities.
Before it's here, it's on the Bloomberg Terminal.
LEARN MORE