Does Silicon Valley Want a New Congressman?
By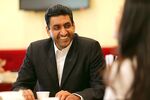 A few months ago I profiled Ro Khanna, a young lawyer and former Obama Department of Commerce official looking to unseat a fellow Democrat, Representative Mike Honda of California's 17th District, which encompasses much of Silicon Valley. What initially drew my attention to the race is that Khanna, a complete unknown, had managed to attract much of the core of President Obama's 2012 reelection team to run his campaign. As I wrote at the time, that's sort of like if Bill Belichick and the New England Patriots' staff had decided to coach a high school football team.
Yesterday, Khanna, who declared his candidacy on April 2, released the results of his first full quarter of fundraising. They're pretty staggering: He raised $1,034,022. According to his campaign, that makes Khanna "the first ever challenger to an incumbent Member of Congress to raise seven figures in a 'out-of-the-gate' quarter."
Later in the day, Honda released his own, smaller figure: $345,143. That's not great, but it's not terrible. What jumped out at me is who donated to whom: Many of Silicon Valley's most illustrious tech titans are apparently eager to get rid of Honda. They include Facebook's Sheryl Sandberg, Yahoo!'s Marissa Mayer, Salesforce.com's Marc Benioff, Netscape co-founder Marc Andreessen, tech investor Ron Conway, and—gosh, this is a little awkward—Josh Green, a clean-tech investor at Mohr Davidow Ventures and the chairman of the National Venture Capital Association (we're not related, though I'd still accept some capital if he offered it to me).
It's hard to unseat a sitting congressman like Honda, who hasn't been tarred by scandal. And it's true that there's a lot more to Silicon Valley than its tech industry. But it can't be a good sign for Honda's prospects that so many important business leaders have decided to support the competition.
Before it's here, it's on the Bloomberg Terminal.
LEARN MORE