After Chicken Woes, Yum Feels Upbeat About China Again
by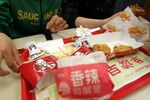 KFC took a pummeling in China in the past seven months. First came news in December about a poultry supplier's poor inspection practices, then the bird flu outbreak in March. But the worst, parent company Yum Brands says, is almost over. "China Division same-store sales are expected to continue to recover over the course of the year and be positive in the fourth quarter," the company said in its second-quarter earnings release. This means a lot to a company with 42 percent of its operating profit last year from China.
Why so upbeat? State media in China started urging consumers to eat chicken in April, and Yum invested in a TV campaign about its quality assurance efforts, which Yum expects will help Chinese consumers become more comfortable with eating chicken again. KFC is also promoting nonchicken items at Chinese locations, including shrimp and mushrooms (although the Colonel isn't exactly known for his mushrooms).
KFC sales in China remain down compared with last year, but the gap is narrowing and that has Yum feeling good. "The trend is in the right direction," says Jonathan Blum, senior vice president. The company is on track to add 700 stores in China this year, most of which will be KFCs. There are currently 4,429 KFC restaurants in China.
KFC Same Store Sales in China
January: -41 percent
February: flat
March: -16 percent
April: -36 percent
May: -25 percent
June: -13 percent
 
The earnings release had few surprises for investors, since Yum had already noted improving trends in recent months. Still, not everyone came away feeling optimistic: EVA Dimensions downgraded YUM to sell today following the earnings report.
Before it's here, it's on the Bloomberg Terminal.
LEARN MORE