Will the Quebec Accident Derail the Oil Train Boom?
by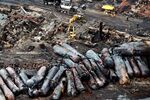 By now, you've seen the pictures. Last Saturday, a train carrying 72 carloads of Bakken crude from North Dakota to a refinery in Quebec caught fire, rolled eight miles down a hill, and crashed into the tiny Canadian town of Lac-Megantic, triggering an enormous explosion. Fifteen people have now been confirmed killed and 40 are still missing. For the sake of comparison, the Deepwater Horizon oil-rig explosion in 2010 left 11 people dead.
The train accident comes just as railroads are enjoying a resurgence in the amount of oil they haul. Last month I wrote a magazine story about how railroads have beaten pipelines to the punch by connecting refining hubs around the U.S. to the new hot-spots of oil production in such remote places as North Dakota, Oklahoma, and West Texas. In the first three months of 2013, trains moved more than 97,000 carloads of crude in the U.S.—900 percent more than in all of 2008. With such a huge increase, it was only a matter of time before something like this happened.
The question now is whether the devastating accident will poison the oil industry's burgeoning love affair with the railroads. Since 2011, billions have been invested by refiners, railroads, and oil and gas companies to extend existing tracks into the mouths of refineries on the coasts. According to analysis done by Citigroup, the amount of oil that refiners are able to take from trains increased by a factor of 16 from 2011 to 2013. Just three years ago, refineries along the Gulf Coast were able to take delivery of only about 85,000 barrels of oil per day by rail. By the end of this year, refineries on all three coasts (East, West, and the Gulf) will be able to take 1.4 million barrels of oil per day.
Next year, with projects scheduled to be finished at two refineries outside Philadelphia, that capacity will increase to 1.5 million barrels per day and then remain flat for the next several years. Meaning that in the wake of the Quebec accident, there's nothing really to cancel. The buildout is basically done, and now it's just a matter of taking delivery of that crude to recoup the investment. "As tragic as it is, it's not going to derail the path the industry has decided to take by betting on rail," says Fadel Gheit, an energy analyst at Openheimer. "Too much investment has been made. For better or worse, the industry has hooked itself to rail for the near-term."
Some Keystone pipeline proponents are using the accident to argue that pipelines are the safer, cheaper mode of moving crude. But pipelines have problems of their own. Just a few months ago, an Exxon pipeline leaked 840,000 gallons of crude into a residential area in Arkansas. While trains have more mishaps, they tend to spill less oil when something does go wrong. Still, a regulatory backlash is certainly coming, particularly in Canada, which is stuck in a national debate over how, or even whether, to develop its oil-sand reserves.
"This is going to fundamentally change the calculus of regulatory negotiations in Canada, with respect to trains and pipelines," says Adam Hoffman, managing partner of Zenith Capital & Trading, an energy hedge fund in New York. Hoffman suspects that the accident will spur a "slew of new regulations" in Canada about how oil gets moved around. Those regulations, he believes, will eventually migrate south to the U.S. "There's not a single person in either Canada or the U.S. right now who isn't suddenly rethinking what it means to have trains of crude running through their town."
For the foreseeable future, though, crude trains will likely keep running. According to Dave Vernon, a transportation analyst at Sanford C. Bernstein, about 85 percent of the crude moving by rail these days is coming out of the Bakken formation of North Dakota, where production has grown the fastest of anywhere in the country. As of April, 75 percent of the close to 800,000 barrels of oil per day gushing out of the Bakken moved onward by rail. A handful of North Dakota pipeline projects are in the works, including one being proposed by Koch Industries, but those will take years to build if they ever get underway.
One development that could slow the movement of crude by rail has nothing to do with the Quebec accident and everything to do with the economics of oil. Over the last few months, the price differential between domestic light, sweet crude (West Texas Intermediate), and its international equivalent (Brent) has narrowed from $25 last November to under $3 today. The fact that U.S. crude no longer trades at a discount eats into the incentive traders have to move it by rail because doing so can, in some cases, cost about three times more than pipelines. It costs roughly $12 to $15 to send a barrel of crude by rail from North Dakota to the Gulf Coast, where prices are closer to Brent than to WTI.
When the spread was $25, traders could make several bucks per barrel doing that trade. Today, with a sub-$3 spread, it's not nearly as profitable.
Before it's here, it's on the Bloomberg Terminal.
LEARN MORE