Walgreen, Blue Cross Want You to Join Obamacare
By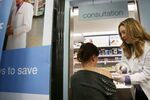 As the White House scrambles to get all the Obamacare pieces in place by October and to hold off those who would repeal the law, two big health-care companies have given their support to the rollout. Walgreen and the Blue Cross Blue Shield Association—both of which stand to profit from more people getting insurance—have launched a website to explain "how the new health care law affects you." Walgreen will also provide information to shoppers in its 8,000 stores, Bloomberg News reports.
Last week the White House delayed a key provision of the law, the employer mandate, in a surprise decision that buoyed the law's opponents. The Obama administration has three months to win over a skeptical and confused public and to convince the uninsured to get coverage through new state health insurance exchanges. Americans for the first time will be guaranteed access to health insurance, even if they have pre-existing conditions, and many low-income families will qualify for federal subsidies to help pay for coverage. Most will also face a penalty, starting at $95 next year and rising after that, if they don't get coverage.
Naturally, insurance carriers and health-care providers want as many people enrolled as possible—especially the young and healthy, as well as people who qualify for subsidies. That means more premiums for insurers such as Blue Cross Blue Shield plans and more prescriptions sold at stores like Walgreen. If healthy people skip coverage, insurers will bear the higher costs of covering sicker populations, which would drive up premiums.
The White House has tried to woo other groups to promote the law, including pro sports leagues. The National Football League decided to stay out of the public fight over Obamacare, which suggests the law's opponents have been successful in their efforts to keep Obamacare radioactive. The Affordable Care Act, which has been largely upheld by the Supreme Court, is intended to provide insurance to Americans who currently don't have it; sports leagues promote exercise, breast cancer screenings, and other healthy behaviors all the time without comment. But Republican leaders in Congress warned NFL officials that promoting insurance exchanges "would risk damaging [the league's] inclusive and apolitical brand."
Expect further battles over Obamacare as the summer continues. A $1 million ad campaign attacking the law by the Koch-brothers-backed Americans for Prosperity hits airwaves this week. The White House and its allies are reaching out to moms on the Web as part of a broad campaign to get people enrolled. Count Walgreen and Blue Cross Blue Shield in Obama's corner on this one.
Before it's here, it's on the Bloomberg Terminal.
LEARN MORE