business
The End of the Great-Man Theory of Innovation
Joerg Schrottke and Thomas Weber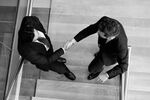 Collaborative innovation is the sort of concept that periodically seizes management circles. Most people have heard about it, something to do with mixed teams of insiders and outsiders. What most haven't got their minds around is that as it moves from phenomenon to commonplace, collaborative innovation will change not only how innovation happens but how companies are run.
What people mean when they talk about collaborative innovation is typically something like Procter & Gamble's close relationship with suppliers and contractors. P&G launched its Connect+Develop R&D program more than a decade ago and claims half its innovations come from outside the organization.
The future of collaborative innovation is a big step beyond that.
A cluster of factors is driving the change. The biggest is that the world's supply of great talent isn't equal to demand. Not surprisingly, the push for new ways of tapping talent is coming less from the C-suite than from operations managers, who need reliable access to specialized skills. Operations managers become increasingly creative in finding ways to mobilize their companies' internal and external knowledge pool: They set up internal networks targeting employees across divisions and functions, or they take the next step and look for the hands-on skills needed outside the company.
The other factor is generational. Fresh talent is less eager than it once was to land a job inside even a prestigious company.  More and more of the best would rather be outside, occasionally connected to an organization and occasionally connected to its competitors. Making this possible—and in many cases more efficient and effective—are the enabling technologies (cloud and mobile computing, for example) of a decentralized workforce.
Insider or outsider, each collaborator is animated by different goals and incentives. Understanding what makes them all go will be the principal task of innovative managers. And, of course, assuring the group's work aligns with the company's strategic objectives.
Managing collaborative teams will require formal structures yet to be invented. Our legal structure, for example, was designed for managing conventional relationships. But if, for instance, the only way to get access to the best minds in the world is to build an open network, how is intellectual property protected? Companies such as Philips or IBM have overcome these hurdles, employing such strategies as setting up a pool of free patents as commons or standardizing licensing agreements to members in the network, such as smaller companies.
In the past decade companies such as InnoCentive and NineSigma emerged partly to manage these new challenges of open innovation. Operating like a clearing house for RFPs, they make marriages among clients and external specialists. Typically the relationship looks more like client and contractor. But many of the most challenging issues in innovation can't be met without a reinvention of client and contractor roles, without true integration. One reason is trust—in the people and their ideas—as both might be completely new to each other. Another is company standards, such as engineering standards or tools, that might not be completely known to outsiders and therefore remain unmet by an external contractor.
Collaborative innovation does not mean R&D departments will go away. Successful R&D departments will be the ones reaching beyond themselves, finding solutions to problems whether they lie inside or outside. This success has been proven across industries—Philips in entertainment, General Electric in engineering, IBM in technology, or Kraft in consumer goods, to name a few.
Collaborative innovation will mean the end of the great-man theory of innovation. Before much longer, the differentiator among great managers will be less individual brilliance and more skill in extracting value from a fluid network of internal and external parties.
Before it's here, it's on the Bloomberg Terminal.
LEARN MORE