The Budget Drain of Same-Sex Parenthood
by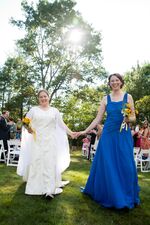 Molly Jacobs and her wife, Lisa Carroll, were on a camping trip cut off from phones and the Internet when the U.S. Supreme Court ruled a few weeks ago that the federal government must recognize their marriage.

When they returned to their Maryland home, they read the news and celebrated. "It's a step toward equality," says Jacobs, 37.
Their celebration was cut short by the realization that the June 26 decision, while well worth it, comes at a cost. And the ruling does little to nothing to ease more than a year of high-cost hassles that the couple thinks was caused by discrimination.
Their 2011 wedding in New Hampshire felt "very ordinary," Jacobs says -- a day of celebration spent with a supportive family and sealed with a marriage contract legal both in New Hampshire and in Maryland, where marine biologist Jacobs works as a professor at a small college. Their troubles began when the couple started trying to have a baby. Jacobs' insurance covers fertility treatments, but relying on donor sperm disqualified her from that coverage. A loan from her parents helped cover the $24,000 cost. After more than a year, the treatments succeeded and Jacobs got pregnant in January.
But the couple faced a second twisted burden. Carroll, a 43-year-old school custodian, would need to go to court to adopt the baby of her legal spouse. While Maryland law makes Lisa's role as a mother automatic -- and puts her name on the birth certificate -- the couple needs a court-ordered adoption to prove Carroll's motherhood to the 38 other states that don't recognize their marriage. Those states include Pennsylvania and Virginia, where Carroll has relatives.
The possibilities of what could happen if Carroll didn't do a formal adoption scared the couple. What if something happened to Jacobs or the baby while they were visiting family or on a road trip to the West Coast, where Jacobs does research? "I don't want to live a life where I have to hopscotch between states where I feel safe," Jacobs says.
The adoption process means shelling out about $3,000 to hire a lawyer and prove to a judge that Carroll would be a fit parent. The couple has to provide financial records, letters from friends and family, and pictures of their house and nursery to persuade a judge to waive a visit by social services. "It frustrates me so much that we have to prove we're worthy parents, especially after we've had to work so hard to make it happen," Jacobs says.
Those adoption expenses could have been deductible on taxes, if not for one ironic hitch. By recognizing their marriage, the Supreme Court's decision effectively excludes them from the federal adoption credit, which doesn't cover adoptions in cases where a spouse adopts another spouse's children.
On the other hand, the court ruling should save the couple some money on income taxes. They're applying for a refund on their 2011 taxes, when the IRS forced them to file separately, which they calculate them about $1,000. (They calculated their taxes twice to see what the difference would be.) Because Carroll plans to stay home with the baby, they'll also end up in a lower tax bracket in future years.

Yet the prospect of losing Carroll's salary is stressful after the budget drain from the fertility and adoption expenses. "I know that having kids is expensive for any couple starting out," says Jacobs. "But the thing is, we haven't started on those 'normal expenses' yet."

Before it's here, it's on the Bloomberg Terminal.
LEARN MORE