SAT Tip: Conquering Test Day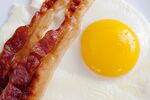 This tip on improving your SAT score was provided by Matthew Chan at Veritas Prep.
It's a four-hour skirmish with a single test for which you have prepared for weeks, if not months or years. You've taken numerous practice tests, honed your mathematics skills, and touched up on your reading comprehension. This is the night before the big day, and you're wondering what you should do in the hours leading up to the test.
Eat a big, nutritious breakfast
Many marathon runners eat loads of carbohydrates the night before and the morning of a race. You should do the same. The SAT, after all, is a marathon, not a sprint. Foods high in complex carbohydrates, protein, and essential nutrients are especially necessary—not Pop-Tarts or cinnamon rolls, despite how tasty they may be. Snacks such as granola bars or mixed nuts are good for the few short breaks they give you during the SAT.
Bring warm and comfortable clothing
They put you into a cold and unfamiliar classroom for a reason—to mess with your mental mojo. On top of that, you might be assigned a wobbly desk with just enough gum on its underside to hold it together. One way you can fight against this is to bring a good pair of sweatpants and several layers of clothing. You can always take layers off, if you need to.
Prepare your toolbox
Pack your approved calculator, extra batteries, No. 2 pencils, eraser (the white ones work best), tissues, snacks, water, test ticket, and student ID the night before the test. Don't bring anything you are unfamiliar with. These tools, if used correctly, will help you get that high score you've been dreaming of. They are your friends in an unfamiliar land. The worst thing that can happen is forgetting something when you're already at the test center, so triple-check everything.
Practice like it is test day
Every time you take a practice test, you should mimic the unnerving feel of test day. Wake up at that incredibly early hour of 6:45 a.m., eat what you are planning to eat on the actual test day, time yourself with the appropriate breaks, and even set your air conditioner to Eskimo-like temperatures. Soon enough, you'll be prepared for anything on SAT test day.
Plan on taking the SAT soon? Sign-up for a trial of Veritas Prep SAT 2400 on Demand.
Before it's here, it's on the Bloomberg Terminal.
LEARN MORE