Our 254-Word Budget Wedding-Gift Guide
by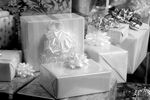 It's wedding season, time to spend thousands of dollars for a few hours of fun. You know, like Eliot Spitzer.
For some, that money will be spent on getting married; for the rest of us, on watching them do it. We'll spend money to get there, to stay overnight, to look presentable, and, finally, on a wedding present. You can skimp only so much on the first three, so guests often end up cutting corners on the gift.
Some guidelines, then, for young people early in their careers who their friends know don't have cash to burn.
A wedding present is supposed to be thoughtful and meaningful, and, ideally, something the couple will treasure. You have no chance of pulling this off. The next-best thing is novelty. Are they into cooking? Adopt an Italian olive tree for them. For $65, they'll receive the olive oil from their very own tree.
Or tread the line between practical and esoteric -- the Chemex coffee maker , for instance. It's basically just an antiquated form of a drip, but the filters are better, and it looks nicer than a giant plastic contraption on your counter. Yours (theirs, actually) for $40.
If they're getting married on Maui and you're now properly broke, for $35 you can give them potpourri . Sweet, silly and useful all at once, like marriage itself.
James Tarmy reports on arts and culture for Bloomberg Muse, the arts and leisure section of Bloomberg News.

Before it's here, it's on the Bloomberg Terminal.
LEARN MORE