New Ross Program Lets Undergrads Get Business Cred
Elizabeth Rowe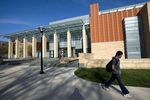 The University of Michigan's Ross School of Business is rolling out a new Master of Management program designed for recent graduates in the liberal arts, sciences, and engineering who want a business credential that will help them compete for jobs. The program starts next July.
"A lot of students either don't know [that they are interested in business], or they want to study liberal arts," says Amy Dittmar, an associate dean of specialty masters programs. "But when they go to the job market, there are some skills and business prowess that they're lacking. That's the idea behind this."
The 10-month, full-time program, which is expected to cost about $41,000 for Michigan residents and $46,000 for nonresidents, will cover the basics of general management and serve a younger group of students than Ross's MBA program. "MBAs typically come in with on average four to five years of work experience—so when they come into the classroom, you're melding that experience with the education, and the class dynamic is different," Dittmar says. "We made this program with younger students in mind."
Despite the differences between this program and Ross's MBA, Dittmar stresses that they share a number of common goals, including Ross's commitment to combine academic instruction with real-world tasks.
The new Master of Management program will fill a gap between Ross's BBA program for undergraduates and its MBA program for more experienced applicants. It will also draw on Ross's existing relationships with recruiters and allow program participants to find jobs with the same organizations that would normally recruit BBAs from Ross and are interested in younger graduates with a business education but little to no work experience.
This degree program responds to two phenomena that faculty at Ross have noticed: an uptick in demand for one-year degrees,and a challenging job market. "We've all seen the headlines about students not finding jobs after college—this is addressing that," Dittmar says. "The goal is not just to get them skills, but to make them much more marketable in their careers."
Earlier this year Northwestern University's Kellogg School of Management launched an MS in Management Studies also designed for younger students without any business background. The $45,000 one-year program is exclusively for Northwestern students for the first three years, after which it will be opened to nonbusiness grads from other schools.
Join the discussion on the Bloomberg Businessweek Business School Forum, visit us on Facebook, and follow @BWbschools on Twitter.
Before it's here, it's on the Bloomberg Terminal.
LEARN MORE