Can a Privatized British Postal Service Avoid a Train Wreck?
By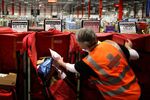 The familiar bright red trucks and mailboxes of Britain's Royal Mail could soon be owned by private investors. The government is preparing to sell shares in the state-owned company in the biggest privatization since the breakup of the national rail system in the 1990s.
The British government says privatization is essential to give the Royal Mail, with £9 billion ($13 billion) per year in sales, access to private capital that would allow it to compete with the likes of Deutsche Post's DHL Express and TNT of the Netherlands. "The best chance of a successful future for Royal Mail is if it can act like any normal commercial company," Business Minister Michael Fallon told BBC Radio on Wednesday, ahead of the government's presentation of the plan to Parliament.
Would a privatized Royal Mail deliver good service at affordable prices? Most Britons don't appear to think so. In a poll released on Wednesday by the conservative Bow Group think tank, 67 percent of respondents opposed privatization. Less surprisingly, a survey of Royal Mail workers showed 96 percent are opposed. Ten percent of shares in the privatized company would be set aside for employees.
The story of Britain's rail privatization certainly doesn't inspire confidence. When then-Prime Minister John Major's government split up the system, rail operations were parceled out to dozens of different companies while an additional company took responsibility for maintaining tracks and other infrastructure. The arrangement was widely blamed for a series of fatal crashes that claimed more than 40 lives from 1996 to 2000 before the government finally re-nationalized the infrastructure. Even today, as Bow Group Chairman Ben Harris Quinney told Bloomberg Television, "We have high costs and not particularly good service."
Quinney says there's nothing inherently wrong with privatization, as evidenced by the successful sale of former state companies such as British Airways and British Telecom, now BT Group. But in the case of the postal service, he says the government should guarantee that rural communities will continue to receive service and that prices will be affordable.
The opposition Labour Party opposes the deal, which it says the government is pursuing in an effort to reduce budget deficits while—noting that Royal Mail's operating profit more than doubled over the past year, to £403 million. "We shouldn't be selling off national treasured institutions on the cheap in some kind of fire sale," Labour spokesman Chuka Umunna told BBC Radio on Wednesday.
Before it's here, it's on the Bloomberg Terminal.
LEARN MORE