business
BMW Revs Up in China, Chasing Audi
By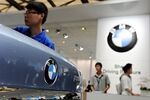 BMW said China will surpass the U.S. this year as its No. 1 market.
The German carmaker has plans to adds roughly 60 dealerships in areas with a dearth of luxury car lots. "There are 100 cities with more than a million inhabitants in China with no premium car dealers at all," Karsten Engel, head of BMW's China business, told Bloomberg. In other words, west of Shanghai and north of Hong Kong, there is a lot of open road.
In the first half of the year, BMW sold 183,000 cars and sport-utility vehicles in China, a 15 percent surge. U.S. drivers accounted for only 173,000, a more sober 9 percent increase. And Chinese buyers weren't just dabbling with starter sedans. BMW's midsize 5-series were its best-sellers.
Audi is still winning the race for Chinese buyers. It controls 30 percent of the market, compared with BMW's 24 percent, according to IHS Global Insight. Audi now sells almost twice as many vehicles in China as it does in Germany, in part because of its cache in the Communist Party. An estimated one in five Audis sold in China goes to governments and state-owned companies.
Meanwhile, that dynamic isn't lost on Mercedes, which recently stepped up its bid for Chinese buyers with chauffeurs; its redesigned über-opulent S-class sedan has massaging seats and leg rests in the back.
Before it's here, it's on the Bloomberg Terminal.
LEARN MORE