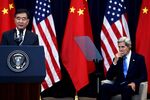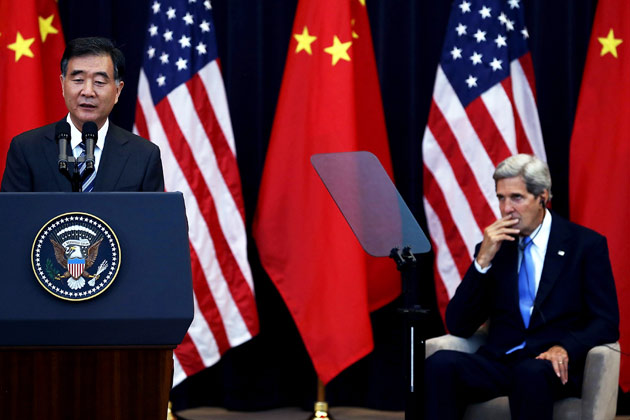 China and the U.S. have the world's most important economic relationship. Top officials of the two countries are meeting in Washington for the fifth round of the U.S.-China Strategic and Economic Dialogue (also known as the S&ED). For those keeping score at home, here's what to watch for on business and economic topics:
How will the new guys get along? It's the first S&ED for the top two officials on each side: Secretary of State John Kerry and Treasury Secretary Jacob Lew for the Americans, and Vice Premier Wang Yang and State Councilor Yang Jiechi for the Chinese. Establishing rapport will be crucial.
Monetary policy The U.S. government is fastidious about the independence of its central bank; the Chinese, not so much. But this year, both countries are bringing their top central bankers, Federal Reserve Chairman Ben Bernanke and People's Bank of China Governor Zhou Xiaochuan. The Fed is trying to take its foot off the gas pedal, while the People's Bank of China is pushing its banks to rely less on it for emergency loans.
Climate and energy For the first time, the S&ED this year will feature special sessions on energy security and climate change. A senior U.S. official told reporters that the sessions, on Wednesday, would be jointly chaired by Kerry and Lew—an indication of the importance the U.S. attaches to the interconnected issues.
Investment treaty? China has long been a huge investor in U.S. Treasury bonds and mortgage securities. Now it's trying to buy more U.S. companies such as Smithfield Foods, the world's largest pork supplier. Both countries complain about restrictions on investments. On the table will be a possible bilateral investment treaty. That won't happen soon, despite the support of people like former Treasury Secretary Henry Paulson and former Secretary of State Henry Kissinger.
Exchange rates The undervaluation of the yuan isn't the hot-button issue it was a few years ago, in part because China has allowed its inflation-adjusted value to rise. But the U.S. still plans to press for what it calls "a more market-determined exchange rate." It also wants Chinese interest rates to reflect market forces, rather than government policy.
Trade barriers and the rest The U.S. will continue to push China to provide better protection of U.S. intellectual property, including copyrights, patents, and trade secrets. It will try to get China to shift to consumption-led growth while strengthening the role of private enterprises, rather than state-owned ones. And it will work with China on building what the U.S. calls "a more resilient global financial system."
Vice President Joe Biden kicked off the talks Wednesday in a State Department ceremony, during which he said: "Our relationship is, and will continue to be, God willing, a mix of competition and cooperation. Competition and be good for both of us. And cooperation is essential."
Before it's here, it's on the Bloomberg Terminal.
LEARN MORE