Yelp Adds Food-Delivery Services to Site Through Partnerships
Danielle Kucera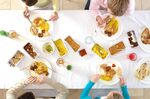 Yelp Inc., owner of a website that compiles reviews of local businesses, is teaming up with smaller companies to offer a food-delivery service for consumers who prefer to dine from their couches.
The company will work with startups such as Eat24Hours LLC and Delivery.com LLC to offer food orders for delivery and pickup through its website. Booking services for businesses such as spas, yoga studios, salons and dentist appointments will be added in coming months, Yelp said today on its blog.
Yelp is adding services in an effort to attract and retain advertisers. Local businesses that display ads on the site are the lifeblood of the San Francisco-based company, accounting for more than 75 percent of sales last year, data compiled by Bloomberg show. Offering home delivery may keep consumers, who already browse Yelp to find restaurants, on the site longer -- and proves that Yelp was the catalyst for the purchase.
"It's a logical extension to move into food-based transactions, because Yelp can deliver an immediacy or instant gratification," said Brian Blair, an analyst at Wedge Partners in New York. "It's too early to tell how easily this could extend beyond cities like San Francisco and New York, but even if it only catches on in major urban centers, it will drive revenues and more closely tie users into regular use of Yelp."
While Yelp said it would take a commission from each transaction tied to home delivery, the company declined to say how much. Yelp already lets customers make restaurant reservations on its website through a partnership with OpenTable Inc.
Yelp shares rose 6.7 percent to $37.24 at the close in New York. The stock has gained 98 percent this year.
Before it's here, it's on the Bloomberg Terminal.
LEARN MORE