Trouble at TaskRabbit Is Bad News for the Sharing Economy
By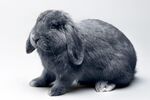 TaskRabbit was founded on something of a magical idea. Digital forms of communication would create a new kind of job market, where people could mete out their labor task-by-task to the highest bidder and perhaps piece together something resembling a living doing so. It turned out that this fell short of being a workers' paradise, though, as my colleague Brad Stone discovered when he spent a few days cleaning bathrooms and doing lawn work. Now it looks as if the vision can't even support the company that dreamed it up. This week TaskRabbit went through a round of layoffs, and the company says it is realigning its efforts.
The news is a blow to the wider sharing economy, in which car ownership and regular jobs are replaced by deals for short-term access to goods and services. Regulation is generally cited as the main barrier for companies such as Airbnb and the myriad car-sharing companies. But TaskRabbit, long cited as one of the leaders in sharing, hasn't faced much in the way of legal trouble. The fact that it hasn't been able to build a sustainable business, despite the hype, should serve as a reminder that this form of economic activity is still far from becoming mainstream.
Apparently, there just hasn't been enough demand for digitally brokered, informal employment to support a company building such a marketplace. Getting beyond the early adopters is a concern for most of the other flag bearers of the sharing world, especially considering that many startups based on similar jobsmarketplaces are in the venture-funded pay-for-growth stages of development.
This isn't to say that all is lost for TaskRabbit.
"We realigned the company to support our key business opportunities, namely mobile, geographic expansion, business services and our marketplace operations. The realigned focus means getting leaner in some areas, and expanding in others," said Leah Busque, the company's founder, in a statement. A company spokesman declined to discuss which areas are most promising for expansion.
TaskRabbit's most promising future may be in business services. Steady employers seeking cheap labor are probably a better bet than random people paying one another to carry their old clothes for donation. That would make the company position itself as a smaller competitor to the temporary employment agencies that have existed since just after World War II. There's nothing wrong with that idea, if TaskRabbit can make it work. But it falls significantly short of magic.