business
The Long Wait for Hurricane Sandy Disaster Loans
By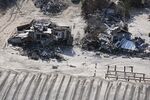 Small business owners who filed insurance claims or applied for emergency loans in the aftermath of Hurricane Sandy know well that getting money to rebuild after a disaster can be a slow process.
In New Jersey, state and local officials are learning the same lesson, according to a story by Eugene Paik in Sunday's Star-Ledger: About 250 days after the storm landed, Paik reports, New Jersey has received just $816 million of the $6.1 billion in federal aid set aside for the state—or about 13 percent. Some of Paik's further findings:
The U.S. Department of Housing and Urban Development has delivered less than $250,000 out of $1.8 billion set aside for the state's reconstruction effort, while the Environmental Protection Agency hasn't disbursed any of its $229 million pledge. The Federal Transit Administration has paid about $29.5 million, out of an expected $448 million, to NJ Transit. The Federal Emergency Management Agency has done somewhat better, delivering aid to about one-quarter of some 260,000 families registered with the agency.
Despite the long wait times, state and local officials appear to be taking a level-headed approach to the federal red tape. According to Paik:
For now, officials up and down the coastline and bayshore are busy navigating the paperwork to obtain federal approvals before receiving the cash, state agencies and municipal leaders said.
At the state's Department of Transportation, much of the money received so far covered immediate post-Sandy repairs, and additional funds will arrive after the department secures contracts for construction projects and files for more reimbursements, officials said.
"There's not a concern that the money might not arrive," spokesman Joe Dee said.
How do the New Jersey numbers compare to the Small Business Administration's progress in disbursing disaster loans? The agency, which offers low-interest loans to help business owners, homeowners, and renters get back on their feet, has approved 35,940 disaster loans related to Hurricane Sandy, according to a spokesman.
Forty-nine percent of those loans have been paid out, though the agency's pace appears slower in the context of dollar amounts. The SBA has approved more than $2.3 billion in disaster loans related to the storm, but has disbursed only about $411 million, or approximately 17 percent.
Before it's here, it's on the Bloomberg Terminal.
LEARN MORE