The Demographics Behind Kroger's $2.5 Billion Bid for Harris Teeter
By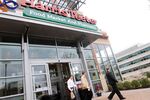 Kroger executives found a lot to like in Harris Teeter: fairly new grocery stores, a first-class loyalty program, and zero unionized workers. But simple demographics likely trumped all those factors in Kroger's move Tuesday to offer $2.5 billion for the company.
The acquisition is a quick and simple way for Kroger, the largest U.S. grocer, to cash in on two of the fastest-growing states in the country: Virginia and North Carolina. At the end of last year, 86 percent of Harris Teeter's 208 outlets were in those states, with the rest scattered through Tennessee and along the coast from Maryland to Florida. The grocery business is a constant battle for market share, and it helps if its markets are themselves growing. If federal projections prove accurate, the population of North Carolina will swell to 12.2 million in 2030, which would be a 28 percent increase over 2010 levels. Virginia is ripe as well, projected to swell to 9.8 million residents in 2030, for a 23 percent gain over 2010 levels.
Meanwhile, only 75 of Kroger's roughly 2,400 supermarkets are in those two states. "We are excited about entering new markets, which include vibrant, growing urban centers such as Charlotte [N.C.] and Washington D.C., several other metropolitan areas in the Carolinas and affluent vacation destinations and university communities," Chief Financial Officer Michael Schlotman told investors on a conference call.
Schlotman is probably also excited about Harris Teeter's profit margin. In the past five years, its income was 2.2 percent of sales. Sure, that's pretty thin gruel—but it happens to be double Kroger's current take.