LVMH's Big Play for Loro Piana's Slow Fashion
By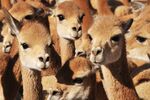 The vicuna, a once-endangered llama-like critter native to the mountains of Peru, has extremely fine wool that can be shorn only every two or three years. It's the opposite of fast fashion—the textile equivalent of an extremely fine wine. It's also one of the main reasons LVMH Moet Hennessy Louis Vuitton has agreed to pay $2.56 billion for an 80 percent stake in Loro Piana, a family-owned textile firm nestled near Lake Como in Northern Italy.
Loro Piana has built its business sourcing rare and obscure material such as vicuna wool and weaving it into four-figure scarves and sweaters. Its newest old-fashioned product is fiber made from lotus flowers in Myanmar. A sports coat made with the stuff sells for almost $6,000. It's an intricate and exceedingly expensive business, one that can't be quickly copied by a bunch of workers in a crumbling factory.
In a conference call, LVMH communications director Christopher Hollis called Loro Piana "one of the most elitist brands in the world." Explained LVMH Chief Financial Officer Jean-Jacques Guiony: "I would say Loro Piana, to a large extent, is a sort of well kept secret of the industry, a secret that makes as much as 700 million [euros] in sales, so it's a nice secret."
In addition to inroads with Peruvian shepherds, LVMH gets Loro's 2,500 skilled workers in Northern Italy, a tidy wholesale business, and 130 stores, including 51 in Europe and 50 in Asia. The purchase will add up to €40 million ($51 million) in annual profit; LVMH hopes to enhance that figure by pushing Loro's brand into Asia and expanding its portfolio of leather goods.
The luxurious textile company did not come cheap. LVMH's offer represents roughly 23 times Loro's earnings, before interest and taxes, and four times annual sales—valuations about double those of the French conglomerate itself.
And though Loro has built a ripe and profitable business, demand for $1,600 scarves and $9,000 leather jackets can be fickle. As the global economy shuddered in 2009, almost one quarter of its annual revenue and 65 percent of its profit disappeared, according to data compiled by Bloomberg. In the same period, LVMH revenue dipped only slightly.
Before it's here, it's on the Bloomberg Terminal.
LEARN MORE