business
In Redesign, Hamburger Helper Drops the Hamburger
By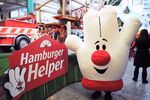 Hamburger Helper is getting a makeover. After a year of planning, General Mills  is launching an updated version of the 42-year-old brand to appeal to millennials.
The first change: It's now called "Helper." Tying  it to a particular meat was too limiting, General Mills found—and chicken is more popular now. The packaging got a facelift, and there is a new Helper line called "Ultimate" that comes with a pouch of sauce, along with two new mix flavors for chicken. The new ad slogan is "Need a dinner idea, we're here to help," replacing the familiar "Real good, feel good meal." Varieties such as Hamburger Helper, Chicken Helper, and Tuna Helper will be consolidated under the "Helper" name. Lefty, the happy four-fingered glove, will remain the mascot.
The product has lost favor over the years. General Mills estimated last year that 1 million households eat Helper every weeknight, but the company's sales in in the dry dinner mix market fell 14 percent, to $324 million, over the past year ending in mid-May, reported the Star Tribune. Competitor Kraft, which introduced Velveeta Cheesy Skillets two years ago, saw comparable sales increase during that period.
Yet more young men have been buying Hamburger Helper, General Mills found, and the new design aims to reel in even more. The company plans to aggressively market Helper to men aged 18 to 30 over social media. Though the brand hasn't been active online in the past (its Facebook page launched in December and it currently boasts about 80 Twitter followers), spokesman Mike Siemienas says "a lot of the marketing efforts are just beginning." A Helper food truck is also getting in on the marketing blitz and is enlisting the help of Josh Marks, a spokesman for Real Men Cook events.
The new focus on men diverges from the brand's origins in 1971 as an easy-to-make meal for working mothers. "Career moms" in their thirties and forties are still the major purchasers today, but Katy Dickson, marketing vice president in General Mills' meals division, hopes to make Helper appealing to young parents and singles in their twenties, too.  "It's as relevant a meal solution now as it was when it was invented in the '70s," says Dickson.
Before it's here, it's on the Bloomberg Terminal.
LEARN MORE