business
Flex-Time: Without It, MBAs Say They're Less Ambitious
Elizabeth Rowe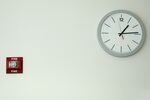 Can lack of access to flexible work arrangements, or FWAs, make employees less ambitious? New research that's based on a survey of MBA graduates from top schools suggests the answer is yes, particularly for women. What's more, while men and women make use of FWAs in similar numbers, women are far more likely to telecommute, a decision that reduces face time with superiors and may ultimately affect their careers.
FWAs have gotten a lot of press recently—particularly after Yahoo! President and Chief Executive Officer Marissa Mayer discontinued telecommuting at the Internet media giant, saying face-to-face interaction between employees was vital to Yahoo's success. But the new study from Catalyst, a nonprofit organization that works to expand opportunities for women, shows that FWAs have profound ramifications for the career ambitions of MBA graduates—and that in their absence, high-potential employees may scale back their aspirations and goals.
The study was based on a survey of 726 MBA graduates—working full-time jobs in a cross section of industries—who attended one of 26 top business schools in the U.S., Europe, Asia, and Canada. The report found that MBA graduates are significantly more likely to aspire to CEO or senior executive-level jobs if FWAs are an option: Some 90 percent of respondents were eyeing the corner office at companies making FWAs available, but only 77 percent were similarly ambitious at organizations in which these programs did not exist. Overall, 81 percent of the MBAs surveyed indicated that they currently have access to FWAs of some kind.
The gap in career aspirations was far more striking in women than men. Among women with access to FWAs, 83 percent aspired to C-level jobs, compared to 54 percent for those without access. Over time, women without access to FWAs were nearly twice as likely to "dial down" their career aspirations than those working for organizations that offered the benefit.
While men and women use flex time and flexible arrival and departure times at roughly equal rates, women were more likely than men to telecommute, with 39 percent saying they telecommuted "frequently," "very frequently," or "always" over the course of their careers, compared to 29 percent of men.
In the study, and in a Harvard Business Review blog post on the research, Anna Beninger, a co-author of the study and senior research associate at Catalyst, didn't hazard an explanation for the differing behaviors of men and women.
Beninger says the value of the research is what it says about the impact of FWAs. "We are really speaking primarily to employers," she says in an interview. "The bottom line is that access to FWAs maximizes the talent pool. High potential men and women want flex options."
According to Beninger, flex options allow employees to stay on top of their work by more effectively budgeting time for their personal and professional lives. "This flexibility can help to lessen [employees'] stress levels," she said, leaving them with time and energy to meet the expectations of their current role and to begin taking on larger projects and seeking promotions. "They're not always feeling like they're drowning," said Beninger.
Join the discussion on the Bloomberg Businessweek Business School Forum, visit us on Facebook, and follow @BWbschools on Twitter.
Before it's here, it's on the Bloomberg Terminal.
LEARN MORE