Eliot Spitzer's Master Plan: Comptroller as Corporate Scourge
By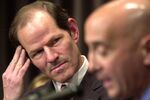 Perhaps the most surprising dimension of Eliot Spitzer's bid for a second act in American political life isn't the up-from-sex-scandal storyline—no rarity these days and rarely a disqualification—but the relatively low-wattage office he's seeking. Spitzer is famously ambitious, a man who used his stint as New York's attorney general to declare war (subscription required) on the most powerful bankers and executives on Wall Street. New York City's comptroller, as understood in the past, audits a massive municipal bureaucracy, markets bonds to investors, and vets city contracts. This is important but sleepy stuff after you've instigated showdowns with giant insurance companies and held the governor's mansion, however briefly.
Oh, but Spitzer doesn't see it that way. He's been imagining for years how humble comptrollers might become powerful corporate crusaders.
In interviews following his out-of-nowhere announcement on Sunday that he would enter the race for city comptroller, Spitzer mixed contrition for his past with candid discussion of how he could once again become a crusading corporate scourge. His plan is familiar: Dramatically expand the turf of the office. "The metaphor is what I did with the attorney general's office," he told the New York Times. "It is ripe for greater and more exciting use of the office's jurisdiction."
To remake New York's attorney general into the top cop of the nation's financial-services sector, Spitzer leaned on the Martin Act, a New York law that empowers the attorney general to combat financial fraud, using virtually unchecked subpoena power over any business active in the state. Past attorneys general used the 1921 law to target "shady pharmacists, Ponzi schemes, and peddlers of fraudulent Salvador Dali lithographs," wrote Legal Affairs in 2004. Spitzer used it against the likes of Merrill Lynch, Deutsche Bank, Goldman Sachs, and many other giants of finance.
It seems Spitzer has already identified a Martin Act analogue in the comptroller's arsenal: city pensions. The comptroller's office, which has 700 staff accountants, economists, lawyers, and analysts, according to Bloomberg News, "oversees the $140 billion in assets held by the city's five pension funds." And in one of Spitzer's post-gubernatorial columns for Slate, he laid out exactly how a comptroller could dramatically expand his sway over corporate America, using the power of public-sector pensions: "It has long been my belief that ownership trumps regulation," he wrote in an Occupy Wall Street-themed piece:
We Own Wall Street is the truth. The actual ownership of major banks, manufacturers, and retail giants resides in vast repositories of capital that are owned and controlled by the public: mutual funds, public pension funds, and endowments at public institutions. If the public exercised its huge ownership capacity by influencing board member selection, compensation, and political donations, then these companies would be fundamentally altered.

How to do this? It's actually pretty easy. What's needed is a bit of leadership. The current Occupy Wall Street could enlist a few savvy and courageous state and city comptrollers. The first steps should be easy, almost nonideological, to demonstrate the power of ownership.
Those first steps, explained later in the column, involve mandating corporate disclosure of all meetings between senior executives and regulators and banning transfers of company funds to any group involved in lobbying lawmakers over regulations. That would be only a start, Spitzer indicated at the time, "with many more substantive policy areas" in which comptroller-controlled pensions could throw their weight around as minority shareholders to "alter corporate behavior." In a radio interview on Monday on WNYC's Brian Lehrer Show, he offered a little more on his gameplan:
The path to the comptroller's office won't be an easy one. Beyond the sock-related details of his sex life that are already in the public sphere, he will need to defeat a capable and respected primary opponent in Manhattan Borough President Scott Stringer. There's also the nontrivial matter of securing 3,750 signatures from Democratic voters by July 11, just to get on the ballot. But if he wins, Corporate America should get ready to explore the outer bounds of  the city comptroller's powers.
Before it's here, it's on the Bloomberg Terminal.
LEARN MORE