Dish's Intriguing Consolation Prizes
Kevin Fitchard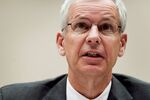 Dish Network's plans to buy out Sprint and invest in Clearwire have been dashed. Both companies are just days from becoming part of SoftBank's pan-Pacific empire. But that doesn't mean that Dish and its wily chairman, Charlie Ergen, have been cowed. The satellite TV provider may have several acquisition targets on its screen.
The most likely candidates attracting Ergen's gaze are fellow satellite TV provider DirecTV and the newly minted T-Mobile US. T-Mobile would be a target for the same reason Sprint and Clearwire were targets: Dish holds former satellite spectrum it wants to put to use in an LTE network, but it needs an established mobile carrier to realize its plans.
When we ask satellite services and spectrum analyst Tim Farrar to weigh in, he tells us Ergen is probably putting Dish's mobile ambitions on hold, at least for now, and is turning acquisition energies back to its core industry: satellite TV. Dish and DirecTV attempted a merger back in 2001, but regulators put the brakes on the deal. Still, the landscape has changed in 12 years.
Dish is already conducting trials of a home broadband network, with regional operator NTelos using its satellite spectrum as a stand-in for a wireline link. A combined Dish and DirecTV, which would have a total of 34 million subscribers, would be in a better position to offer a residential broadband service, challenging the cable operators and phone companies.
Ergen, however, has dismissed the idea of revisiting Dish-DirecTV. At an analyst briefing in May, he said if he had to choose between Sprint or DirecTV, he would pick the wireless carrier. Satellite TV is a mature business; merging the two big players would create only a larger version of the same company, Ergen said.
DirecTV, however, could fit into a much bigger Ergen plan. Dish could use its converted satellite spectrum to offer DSL-like services to TV subscribers, but the key would lie in the architecture, Farrar says. The satellite dishes that pick up TV signals from space would not only contain the antennas needed to grab fixed wireless signals from terrestrial towers,they also could host a cellular network's transmitters. Dish could use customer rooftops as "towers" for some lucky mobile operator's LTE deployment and then offer its fixed wireless network as backhaul.
While T-Mobile—and even Sprint—could be candidates for such a network-hosting deal, Farrar thinks Ergen is looking to tie his star to AT&T. Verizon Wireless has gotten awfully cozy with the cable operators since  it closed the big SpectrumCo deal last year. Verizon and the cable companies have been jointly selling cable broadband and mobile services in some of AT&T's U-Verse markets. AT&T may be looking its for its own Comcast. "The symmetry of such a deal with Verizon's cable partnership is striking," Farrar says.
To accomplish all this, Dish will need more spectrum. Ergen is already eying an acquisition prospect that would fill that need.
Since regulators crushed LightSquared's plan to build a nationwide LTE network, the company has been relatively quiet. A dense cloud hovers over the satellite spectrum it wants to repurpose for mobile broadband because of interference with the GPS band.
This hasn't prevented Ergen from buying up a sizable portion of LightSquared's debt through a hedge fund. He has also reportedly offered $2 billion to buy LightSquared's L-band spectrum outright. Ergen could combine those L-band airwaves with Dish's own S-band frequencies, changing their configuration to produce a high capacity network that wouldn't interfere with sensitive GPS receivers.
So this year or next, Ergen might be able to accomplish everything Dish failed to do when it missed Sprint and Clearwire. It could get high-frequency spectrum, build its nationwide broadband network, and get access to a mobile network by teaming with AT&T, Farrar says
Further theories abound, include rumors that the newly reborn T-Mobile is in Ergen's sights. One analyst believes Dish might bid for the country's biggest remaining regional operator, Leap Wireless, which runs Cricket Communications.
Farrar's theory may seem convoluted. But Ergen thinks many moves ahead. When Dish bought bankrupt Terrestar's satellite broadband spectrum in 2011, who predicted it would lead to Ergen bidding on the country's third-largest mobile operator?
How far ahead is Ergen thinking? Farrar believes Ergen ultimately wants to be a seller, not a buyer. Since in 2011, when regulators came down on AT&T for trying to merge with T-Mobile, there's been no chance the Obama administration would let AT&T or Verizon make big acquisitions of companies or spectrum. But 2016 will bring a new president and new regulators potentially friendlier to the big operators. Ergen may be prettying up Dish's wireless spectrum—if not the entire company—for sale to AT&T.
Also from GigaOM
Intel Worried About Dish (subscription required)
On Its 5-Year Anniversary, 5 Questions About the Future of Apple
Why Public Libraries Should Follow Chicago's Lead and Build Maker Labs
Prss Is Trying to Design the iPad Publishing App that Apple Never Built
Your Metadata Can Show Snoops a Whole Lot. Just Look at Mine
Before it's here, it's on the Bloomberg Terminal.
LEARN MORE