A Hidden Danger in ETFs
by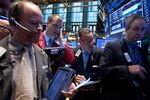 Investors who buy and sell exchange-traded funds are learning that they don't always get what they pay for. Sharp price swings and heavy selling can cause the prices of ETFs to vary from the value of the assets they own. That's been especially clear of late in bond ETFs, as Bloomberg's Lisa Abramowicz and Mary Childs explain.
ETFs, you'll recall, hold baskets of underlying securities and trade throughout the day like a stock. Most track an index and stray little from their net-asset value, or NAV. But heavy trading and market volatility can compromise that consistency. Last month, as trading in the three biggest credit ETFs approached record levels amid the market's biggest losses since 2008, the ETFs' shares dropped as much as 1.1 percentage point more than the net value of the securities they hold. Since May 8, the two largest high-yield bond ETFs have lost about 6 percent—2 percentage points more than the loss for the Bank of America Merrill Lynch U.S. High Yield Index that they're supposed to track.
Shares of BlackRock's popular $13.7 billion iShares iBoxx $ High Yield Corporate Bond ETF fell 4.3 percent in the six days ended June 24, while the net value of its assets dropped 3 percent, according to data compiled by Bloomberg. Meanwhile, BlackRock's investment-grade bond fund has lost 7.3 percent since the end of April, compared with a 5.9 percent decline on the Bank of America Merrill Lynch U.S. Corporate Index. State Street's $9.1 billion junk-bond ETF has lost 5.2 percent since the end of April—2 percentage points more than the Bank of America Merrill Lynch U.S. High Yield Index.
Last week, Christopher Condon and Margaret Collins wrote about how share prices for dozens of ETFs—especially foreign and less liquid ones—hit their biggest discounts in a year against their net-asset values during the global stock and bond selloff. Case in point: In just nine trading days through June 25, the $362 million iShares MSCI Philippines Investable Market Index Fund swung from a 4.7 percent premium to a 6.1 percent discount, before returning to a 2 percent premium. Nuveen's S&P High Yield Municipal Bond ETF hit a discount of 4.8 percent to its assets last month, the highest in more than a year.
The lesson: In fast-moving markets, the price of your ETF may disconnect from the price of the assets it holds.
Before it's here, it's on the Bloomberg Terminal.
LEARN MORE