Will Obamacare's Calorie Counting Hurt Small Businesses?
by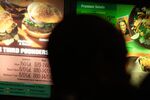 Critics of the Affordable Care Act rejoiced last week, when the Obama administration delayed a requirement that companies with 50 or more workers provide health coverage for employees beginning next year, a provision that opponents said saddled small business owners with undue costs. With many pieces of Obamacare set to take effect in the six months ahead, what's the next front in the long battle over the health reform law?
One answer: a provision that may eventually require restaurants and supermarkets to list the calorie counts for all menu items. Writing in Bloomberg View on July 4, Representatives Cathy McMorris Rodgers, a Republican from Washington, and Loretta Sanchez, a California Democrat, argued that menu labeling "threatens to impose significant costs on consumers and small businesses without delivering meaningful value to the public."
Menu labeling is an old sticking point between nanny-state bureaucrats and defenders of a citizen's right to live free and clog arteries. Heeding the advice of such organizations as the American Heart Association, which notes the relationship between eating at restaurants and getting fat (PDF), California, New Jersey, and New York City have required certain types of restaurants to publish calorie counts on their menus. When Congress passed the ACA in 2010, it gave the U.S. Food and Drug Administration authority to regulate nutrition labeling at restaurants and "similar retail food establishments." The agency published a draft rule setting out new regulations in 2011, but two years later it has yet to finalize the rule.
Why the wait? It's a thorny political issue. The Food Marketing Institute, an industry group for supermarkets, is opposed to parts of the FDA rule that would require grocers to post calorie counts on certain restaurant-style offerings. On the other side of the question, the National Restaurant Association has supported menu labeling to bring uniformity to disparate state regulation (PDF) and wants grocers included in the new requirements. A report (PDF) published by the Robert Wood Johnson Foundation earlier this month says the effects of menu labeling aren't conclusively known, but most restaurant customers want some form of the practice.
In March, Representatives Rodgers and Sanchez introduced a bill that would allow restaurants to comply with regulations by posting calorie counts online (out of sight for most diners), and let supermarkets and convenience stores out of FDA regulation. In their article in Bloomberg View, the lawmakers estimate that first-year compliance expenses associated with the regulation could be more than $1 billion, costing individual businesses thousands of dollars a year.
Would a menu-labeling provision really take a bite out of small business owners' bottom lines? The ACA requires only businesses that are part of chains with 20 or more outlets to post calorie counts, meaning that neither Main Street pizzerias nor mom and pop grocers will be affected. Plenty of franchise owners do have a stake in the matter.
Before it's here, it's on the Bloomberg Terminal.
LEARN MORE