'The Lone Ranger' and the Curse of the Blockbuster Western
by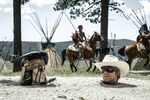 Will the big-budget cowboy movie ever make a comeback? The dismal, holiday-weekend box-office performance for Disney's The Lone Ranger certainly isn't promising. With a budget of $215 million, the Johnny Depp-led extravaganza opened on July 3 and earned about $49 million over five days, a paltry $29 million of that during the Friday-to-Sunday period. The film, which was roundly pummeled by critics, is the latest chapter in Hollywood's long saga of failing to transform a genre staple from the mid-20th century into a lucrative 21st century box-office draw.
Westerns are risky investments, as stories set in the Old West aren't as popular abroad as they used to be. So they face challenges in foreign markets, which today's big movies increasingly rely on to fuel profits. They also appeal largely to older, white, and male moviegoers—an important demographic, to be sure, but not one to build a summer blockbuster around. To combat these challenges, filmmakers have continually tried to jazz up the Western template. 1999's Wild Wild West fused a long-forgotten television series with a modern-day sensibility, a hip movie star (Will Smith), and amped-up CGI. It grossed a lackluster $113 million on a production budget of $170 million. In 2010, Warner Bros. took a chance on the comic book adaptation Jonah Hex. While it had a modest budget for a summer action movie ($47 million), it was a cataclysmic bomb, earning only $10 million domestically. In 2011, Iron Man director Jon Favreau's Cowboys & Aliens pitted Daniel Craig and Harrison Ford against invaders from outer space in a mash-up of Western and science fiction. That, too, fared poorly—barely making $100 million on a production budget of $163 million.
It was in the wake of that latest dud that Disney started to get cold feet over The Lone Ranger. The studio halted production in August 2011 over concerns about the hefty $250 million price tag for a Western based on a hero only vaguely remembered by modern audiences. (The original Lone Ranger was a 1930s radio serial, then a popular TV and film series in the 1940s and '50s. His last appearance on the big screen was the 1981 flop The Legend of the Lone Ranger.) Production eventually resumed after the filmmakers whittled the budget down to $215 million.
But The Lone Ranger was something of a passion project for its makers. In this case, star Depp, director Gore Verbinski, and producer Jerry Bruckheimer, the team behind the Pirates of the Caribbean films. "These guys redefined the pirate-film genre, and we think they can do the same here," Sean Bailey, Disney's president of production, told the Wall Street Journal last month. The Pirates films grossed more than $2.6 billion, and another one's due to arrive in 2015.
That lightning, unfortunately, doesn't appear to have struck twice. Attempts to broaden the audience don't look promising, either: 57 percent of The Lone Ranger's weekend audience was male, and 68 percent over the age of 25; only 16 percent was under 18. And despite Depp's international appeal, the film's overseas openings this weekend were also soft; it took in about $24 million abroad. The jury's still out on whether the film can hold over well in the coming weeks, but it's unlikely, given the crowded summer movie marketplace.
But there is hope for the genre itself, just not as a summer tentpole. Westerns have had much better luck of late as awards-season contenders. Last December, Quentin Tarantino's Django Unchained made more than $160 million. In December 2010, the Coen Brothers' True Grit did pretty much the same. Those titles—as well as earlier, more modest successes such as 2003's Open Range, 2007's 3:10 to Yuma, and 2008's critically acclaimed Appaloosa—are encouraging to those who still enjoy horses and six-shooters. Django even played to a diverse crowd: African-Americans made up 42 percent of its opening-weekend audience. It took in more than $260 million internationally. All of this would suggest that the genre is alive and well. And if history is any indication, it's only a matter of time before another filmmaker comes along to try and score with a blockbuster Western. Good luck, though, on getting a studio on board.
Before it's here, it's on the Bloomberg Terminal.
LEARN MORE