How Disney's Bean Counters Will Bury 'The Lone Ranger'
by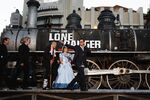 Here's the recipe for making a summer blockbuster: Buy a proven franchise, lock down one of the most coveted release dates of the year, and spare no expense to get an A-list actor, producer, and director. Unfortunately for studio executives, that's also the recipe for a flop, as the team behind Walt Disney's The Lone Ranger is realizing all too clearly this morning.
The highly anticipated film didn't even take in $30 million in theaters this weekend, which is pretty low considering the spectacle's $225 million budget—a sum no doubt inflated by Johnny Depp, star producer Jerry Bruckheimer, and award-winning director Gore Verbinski. It's as if the Miami Heat spent lavishly on its three marquee athletes and failed to make the playoffs. Based on an 80-year-old radio series, the film failed to draw young viewers, didn't impress critics, and may have a tough slog at theaters outside the U.S., given its Wild West setting.
"That's particularly frustrating given the time, energy, and cost, and when it feels like you have the ingredients to succeed," says Dave Hollis, executive vice president for sales and distribution at Disney.
In the weird accounting of the entertainment industry, the cost of making a film is marked as an asset. A big paycheck for a star such as Johnny Depp goes on the balance sheet right next to real estate holdings. When it looks like those investments won't pay off, the company is forced to take a writedown, such as the $200 million lump Disney took on John Carter early last year.
Disney says it is too early—even "reckless"—to be discussing a writedown on The Lone Ranger, but it already has a pretty good idea of how much money it will lose (or gain) on the film. Based on how past films have performed, studios use early box office results to estimate each subsequent window of revenue: the rest of the film's run in theatres, DVD, and video-on-demand sales, revenue from paid-TV outlets such as HBO, and finally cable and broadcast networks buying the rights to show the film.
Wall Street analysts, meanwhile, are doing the same thing. Lazard Capital's Barton Crockett says Disney might take a $190 million writedown on the film. A Cowen & Co. analyst puts the loss at $150 million, according to The Hollywood Reporter.
Bloomberg Industries analyst Paul Sweeney says Disney will know its final return on The Lone Ranger in the next couple of weeks, though he doesn't think a writedown will be announced before the company's next earnings release on Aug. 6.
So why does Disney take such big gambles on major motion pictures? Because the payoff can be enormous, and it can afford to take its chances. Studio entertainment made up just 13 percent of Disney revenue last quarter and less than 5 percent of its operating income. Most of Disney's business these days comes from its TV properties, including an 80 percent stake in ESPN, followed by its parks and resorts.
If Disney's studio executives green-light a massive hit such as its seminal Pirates of the Caribbean, they trigger a lucrative chain of sequels, toy sales, and amusement park rides. If they roll out a stinker like John Carter, the flop virtually disappears on financial statements.
Disney may write down more than $100 million on The Lone Ranger, but it still has almost $5 billion of film and TV costs listed as assets on its recent financial statements.
"It's a hit or miss business," Sweeney says. "One year you're going to have Titanic, and the next year you're not."
Before it's here, it's on the Bloomberg Terminal.
LEARN MORE