Countess Woos Soldier as Italian Art Comes to Paris Show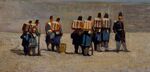 What does Lady Macbeth have in common with a bunch of Tuscan painters?
They were both obsessed with spots -- the murderous lady with the imaginary bloodstains on her hands, the Macchiaioli with "macchie," splashes or spots, their trademark.
Or so the critics said. Like "Impressionists" and "Fauves" (wild beasts), Macchiaioli was an insult before it morphed into a generally accepted term.
A charming show at the Orangerie in the Tuileries Gardens reminds us of that school which flourished in the second half of the 19th century and is little known outside Italy.
In the 19th century, Italy had lost much of its former glamor. Foreign artists and tourists continued to flock to the country, yet they were only interested in the glories of the past.
That was not the view of the young painters who, starting in the 1850s, regularly met at the Caffe Michelangiolo in Florence. They were tired of academic conventions and the historical and mythological subjects appreciated by dealers and collectors.
The Macchiaioli are often compared to the Impressionists, as they too preferred to work outdoors and had a predilection for landscapes.
Yet they never went so far as their French confreres who dissolved outlines in a play of light and atmosphere. The Macchiaioli, their spots notwithstanding, remained firmly anchored in what you might call poetic realism.
Freedom Fighters
Another crucial difference was that the Impressionists couldn't care less about politics. The Macchiaioli, by contrast, were deeply involved in the Risorgimento, the fight for their country's independence and unification.
Some joined Giuseppe Garibaldi's guerrilla forces. One was killed, another lost an eye. Battle scenes were a popular subject.
Despite the patriotic slogan "Italia fara da se" (Italy will do it alone), it was only with French and Prussian help that Italian unification was achieved in 1870.
So don't be surprised to find French uniforms in the pictures of Giovanni Fattori (1828-1908), probably the greatest talent of the group. His most sensational painting depicts a cavalryman who got stuck in the stirrup and is dragged along by his horse.
Like most of his colleagues, Fattori preferred small formats. Some of his works were painted on cigar boxes.
Florentine Delicacy
Silvestro Lega (1826-95), also fought in several battles. He is best known, though, for his intimate scenes painted with the delicacy of early Florentine masters.
Telemaco Signorini (1835-1901), another war veteran, came closest to a kind of social realism. One of the canvases in the exhibition portrays madwomen in a hospital.
Most of the Macchiaioli died poor and became famous only after their death. That was certainly not the case for Giovanni Boldini.
Boldini (1842-1931) left the group after a few years and moved first to London, then to Paris where he became one of the most fashionable portrait painters of the Belle Epoque, as an Italian John Singer Sargent with whom he shares the reputation of slick brilliance and empty virtuosity.
The show ends with an excerpt from Luchino Visconti's 1953 movie "Senso," the impossible love story of an Italian countess and an Austrian officer at the time of the Risorgimento.
You can see in that excerpt that Visconti, an aristocrat by birth, a Marxist by conviction, knew that period inside out and revived it with infallible taste.
The exhibition runs through July 22. From Sept. 20 to Jan. 5, 2014, it will be on view at the MAPFRE Fundacion in Madrid. Information: http://www.musee-orangerie.fr.
(Jorg von Uthmann is a critic for Muse, the arts and leisure section of Bloomberg News. The opinions expressed are his own.)
Muse highlights include Warwick Thompson on U.K. theater, Scott Reyburn on the art market and Jeffrey Burke on books.
*T *T
Before it's here, it's on the Bloomberg Terminal.
LEARN MORE