Want to Listen to Jay-Z's New Album? Get Ready to Spam Your Friends
by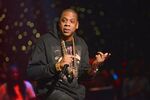 Music critics get paid for their unusual insights into songs and albums. This can mean pointing out something in the rhythm or timbre of a song that we might have missed. As musicians experiment with using mobile apps as albums, this may also mean honing their ears for terms of service.
By those standards, something doesn't quite ring true with the new Jay-Z album, Magna Carta … Holy Grail, which is currently available only to Samsung customers who download a special smartphone app. (The album begins selling on Tuesday, although it has already leaked on pirate websites.) Jon Pareles of the New York Times took issue with the app's requirement that users grant it access to their phone calls, location, and social media profiles—and the music critic even suggested Jay-Z join the National Security Agency. But what Pareles really didn't appreciate being forced to shill for Jay-Z on social media:
In the days before the album's release through Samsung, the app promised to display lyrics—with a catch. "Unlocking" the lyrics required a post on Facebook or Twitter. I used Twitter, where hitting the "Tweet" button brought up a canned message: "I just unlocked a new lyric 'Crown' in the JAY Z Magna Carta app. See them first. http://smsng.us/MCHG2 #MagnaCarta." The message could be altered, but something had to be sent. No post, no lyrics—for every song. Users were forced to post again and again. And frankly, a lyric that is going to show up almost immediately on the Internet isn't much of a bribe for spamming your friends.
Pareles wasn't the only one creeped out by the app. Killer Mike, whose lyrics make it pretty clear the thinks the government is out to get him, said on Twitter he decided not to download the app, while Diplo also wavered.
Samsung is hoping to use deals like this one to persuade people that its smartphones offer something that Apple's lack. The competition is only going to get tighter, and Samsung's disappointing earnings guidance on Friday showed further evidence of a slowing market for high-end smartphones. But the Jay-Z downloads haven't flown off digital shelves at quite the pace Samsung hoped for. The company paid $5 million for rights to distribute 1 million digital versions of the album. By Friday, the app had fallen short of that mark.
More artists are experimenting with making apps that serve as albums, and personal data is likely a big part of the appeal. By the standards of data-collecting smartphone apps, Jay-Z isn't doing anything beyond the pale. And while people have shown some interest in expressing their displeasure with how their personal data is monetized by technology companies, few have been willing to do much about it.
Ironically, the computer-security company McAfee found malware in a pirated version of the Jay-Z app that was set to display a message criticizing the actual NSA spying program by switching the art within the app to an image of President Obama wearing headphones with the slogan: "Yes We Scan."
Before it's here, it's on the Bloomberg Terminal.
LEARN MORE