Tour de France: Same Big Race, Much Smaller Sponsors
By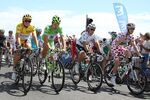 The world's biggest brands are still steering clear of the Tour de France after more than a decade of doping scandals and the wrenching fall of the sport's most-celebrated star.
Of the top 30 sponsors in pro cycling last year, only seven were big global companies such as Rabobank that offer products not specific to cycling, according to a new study by Cycling News and Repucom, a sports-marketing firm. Seven of the team sponsors in 2012 sold cycling gear, while 16 came from entities that don't do much business outside Western Europe (for instance, the French national lottery). The roster of sponsors isn't drastically different this year—the Tour's grand centennial—although Rabobank dropped out over concerns as to whether the sport is "clean and fair."
The absence of major consumer brands isn't much of a puzzle. Hypodermic needles and peloton pharmacists have dominated headlines in recent years, more than the most triumphant finishes or gutsy climbs through the gorgeous Alps. Even if professional cycling is now clean—a big if—marketing managers still view it rather like a junkie in detox.
Here's how Repucom describes the dynamic in its otherwise complimentary report: "Fifteen years of major doping scandals have significantly damaged the sport's image and public perception." And then came the Lance Armstrong show in January. The one-time hero of the sport boosted U.S. TV ratings for the Tour de France by 80 percent in the seven years he spun his way to repeated championships. But the ratings coup he delivered this year was of the ominous kind: a two-part mea culpa on The Oprah Show, which captured 4.3 million viewers, according to Nielsen estimates.
That kind of dream-crushing TV is one of the big reasons this year's tour has a team backed by Vacansoleil, a Dutch campsite company, rather than a multibillion-dollar global conglomerate.
Still, Repucom insists Le Tour is a smart buy and an undervalued advertising opportunity. For one thing, it's a long, long race. Three weeks of three- to five-hour stages present plenty of time for brand names whiz by TV cameras. In the U.S., NBC and NBC Sports Network will broadcast almost 100 hours of Tour TV. Second, the sport is truly global. With riders from about 175 different countries, only top-tier soccer or the Olympic Games offer equal breadth.
Repucom estimates that for every sponsorship dollar spent, corporate backers earned more than $5 in advertising exposure. Last year, Adidas was the hands-down champion of the brand race. Its support of the triumphant Team Sky probably cost less than $1.5 million, according to Repucom. In return, it realized somewhere around $150 million in media exposure.
That kind of payoff is why a few U.S.-centric companies have stayed in the peloton. RadioShack, which backed Armstrong in 2010, has its name on a tour team this year, as does longtime Tour participant Garmin, a Swiss maker of GPS gadgets that gets slightly more than half of its revenue from the U.S.
New to the race is Belkin, a California company that makes computer cases and accessories. Chief Executive Officer Chet Pipkin told Cycling News he sees a "huge advantage" to buying into the sport this year. Meanwhile, race director Christian Purdhomme said business is good. "It's true that cycling, more than ever, needs to be loved, and it is," he told reporters in France. "Not for one second has there been any sign of public disaffection."
If he's right, maybe big-brand sponsorship isn't too many stages down the road, after all.
Before it's here, it's on the Bloomberg Terminal.
LEARN MORE