business
Stricken by Cancer, a Military Man Soldiers On to Finish His MBA
Francesca Di Meglio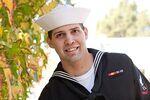 Doctors told Bryan Fazio in February that he had nine months to live. The news motivated the 26-year-old former naval petty officer to load up on course work to make sure he completed the Brandman University MBA program he had begun in February 2010, after being diagnosed with cancer.
Although Fazio walked with his class at graduation in May, he will officially complete the MBA program in August. The school has set up a scholarship in his honor for veterans with medical issues who wish to pursue their education.
Fazio graduated from Concordia University Irvine with a bachelor's degree in political science in May 2009. He immediately entered the Navy, where he expected to have a career spanning decades. After basic training—and just before getting deployed—Fazio was having trouble breathing and thought he had pneumonia. Instead doctors found he had cancer, an aggressive form of Hodgkin's lymphoma.
After chemotherapy, radiation, and two bone-marrow transplants failed to halt the spread of the disease, Fazio knew his military career was over. That's when business school figured into the picture. He recently spoke with Bloomberg Businessweek reporter Francesca Di Meglio. Here are excerpts of their conversation:
How challenging was it to complete the MBA degree while battling cancer?
Excruciating. MBA programs are challenging, even without cancer. It's a struggle. There were times I showed up to class bald. The classes are sometimes three hours long, which would be difficult after chemo. Then there's the work load. There are days when I feel good and days when I don't. I learned to do my work on the days I feel good. Getting an MBA is not easy. It's a huge accomplishment.
Why continue with the MBA program after hearing that you have months to live?
The main reason it was important for me to do this is that I'm planning on living. Completing the MBA is my way of telling my doctors and cancer that I am sticking around. I don't want cancer to make me a victim. The MBA has always been a dream of mine. When I was diagnosed, I thought, "What better time to do it than now?"
What's next for you?
I want to either start law school or a doctoral program. Ultimately, I'd like to work for an existing nonprofit or start one myself to help veterans with medical problems, so they can better transition from military to civilian life.
What message do you want to send to people?
Life will throw you curve balls, but what is important is how you respond to them. I can't control my cancer. But I can control not being a victim. It's not a death sentence. You can choose to go to college. You can choose to go after your goals. You can choose to live.
Join the discussion on the Bloomberg Businessweek Business School Forum, visit us on Facebook, and follow @BWbschools on Twitter.
Before it's here, it's on the Bloomberg Terminal.
LEARN MORE