SAC's Steven Cohen Appears Safe for Summer
by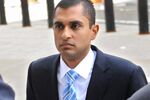 The Wall Street Journal rocked a few vacation plans on July 4th with a report that SAC Capital's Steven Cohen is expected to avoid criminal charges this month:
Investigators probing the biggest alleged insider-trading scheme in history have been eyeing the 57-year-old Mr. Cohen and his namesake SAC Capital Advisors LP hedge-fund firm for a decade, suspicious that some of its trading profits were too good to be legitimate, according to people close to the probe.

Prosecutors filed criminal charges last November against a portfolio manager at an SAC affiliate who was close to Mr. Cohen—and kept trying to work their way to the top. Federal agents have approached many former SAC employees for information, showing one person a diagram of the investigation's targets, according to people familiar with the matter. Mr. Cohen's picture was in the middle.
The story refers to an end-of-July deadline for the government to file new charges pertaining to trades made by former SAC portfolio manager Mathew Martoma in July 2008. The trades involved two drug stocks, Elan and Wyeth, and Martoma was charged last November in what the government described as the largest insider-trading case in history.
Federal prosecutors alleged that Cohen, Martoma's former boss, traded on some of Martoma's ill-gotten information. Cohen was never expected to be charged in the case if Martoma didn't agree to testify against him. The U.S. Attorney's Office has been leaning hard on Martoma and are on the verge of filing a revised indictment against him that could amplify the pressure. It now seems that he has resisted both the carrot and the stick and prefers to take his chances before a jury.
Martoma pleaded not guilty, and Cohen has not been charged.
One theory might explain the apparent leak published on Thursday night in the Journal: The government is trying to manage down the public's expectations, which have been running high for a summer criminal indictment. According to sources familiar with the investigation, the government does not currently expect to charge Cohen criminally this summer, although the investigation is continuing.
Before it's here, it's on the Bloomberg Terminal.
LEARN MORE