EU Takes Aim at Airport Subsidies—and Ryanair
by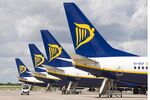 In a move that could shake up the business model of low-cost airline Ryanair, European Union antitrust regulators want to phase out most government subsidies for unprofitable European airports. The plan could lead to higher operating costs for carriers that operate out of smaller, secondary airports; Ryanair, Europe's biggest discounter, flies almost exclusively to such airports.
"Airport overcapacity gives airlines an opportunity to shop around for subsidies at taxpayers' expense," EU antitrust chief Joaquin Almunia said earlier this week. "Just like other economic activities, airports should recover their operating costs from those that use them, namely airlines and passengers."
The move could lead to another dust-up between Brussels regulators and Ryanair's flamboyant Chief Executive Officer Michael O'Leary. In recent months they've tangled over  issues ranging from passenger compensation for canceled flights to Ryanair's failed effort to acquire fellow Irish carrier Aer Lingus.
EU antitrust regulators currently are investigating at least 23 cases, 19 of them involving Ryanair, in which airports eager to attract flights allegedly provided subsidies to airlines (for example, by providing discounts on gate fees). In some of the Ryanair cases, authorities have said the airports went even further, providing direct cash payments to the airline.
Regulators claim that an airport in the French city of Montpellier made payments totaling €798,000 ($1 million) to a Ryanair subsidiary in 2010 and 2011. The payments were supposed to be for advertising and marketing to attract tourism to the region. Government audits found that the services consisted of placing links to local tourist information on Ryanair's website.
Such payments are "a mere vehicle to grant further discounts" to the airline, EU regulators said last year in a case involving similar payments made to the Ryanair subsidiary by the Klagenfurt airport in Austria. "The Commission has serious doubts whether a market investor airport would have commissioned marketing activities for the same price," the regulators wrote in a letter to Austrian authorities.
Ryanair maintains that it receives no subsidies. "The European Court in the Charleroi case in 2008 ruled that Ryanair's arms-length airport contracts do not constitute state aid," spokesman Robin Kiely said in an e-mailed statement, referring to a case involving a Belgian airport served by Ryanair. In that case, a ruling against Ryanair by EU regulators was overturned by an appeals court, but the regulators subsequently reopened and expanded the case.
The plan announced by Almunia would require state aid to most airports to be eliminated over a period of 10 years. The rules are "markedly stricter" than existing guidelines, Totis Kotsonis, a lawyer at Norton Rose Fulbright told Bloomberg News. "The aviation sector has to depend on its own resources and not expect the state to subsidize it forever."
The Association of European Airlines, which represents most of the region's major carriers, has sparred with Ryanair and other discounters over the subsidy issue. A spokesman tells Bloomberg Businessweek that the association "welcomes the announcement" that government aid is to be cut back. Subsidies are causing "competitive distortion," he says, "and there is no transparency."
Before it's here, it's on the Bloomberg Terminal.
LEARN MORE