pursuits
UFC Fighters Get Pummeled for a Living, and the Pay Stinks
By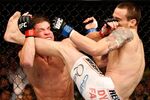 Obscurity doesn't pay very well in the ranks of the Ultimate Fighting Championship, where the hardscrabble gym rats who grapple in the mixed martial arts league's octagon-shaped rings earn a tiny fraction of what their bigger-name counterparts make. But after high-profile fighters recently began echoing critics of the sport's inequality—former welterweight competitor Jon Fitch among them—UFC President and Chief Executive Officer Dana White felt the need to respond.
His solution: scrap the current policy of fight-night bonuses that tends to benefit UFC's stars. "You don't like the structure? All right, we'll pay the lower-level guys more money—no more f-‍-‍-ing bonuses," White told the website MMA Junkie. "You guys come in, you negotiate your contracts, and we do away with the bonuses. That's what I'm thinking about doing." Clearly irritated, White continued to pounce on his critics. "All these f-‍-‍-ing morons have no idea what goes into this and what it takes to build a sport and a company at the same time," he said. "And we've been very fair to guys."
The comments leveled at his critics mark the latest turn in a recurring story about the treatment of athletes in a physically demanding sport without collective-bargaining rights ruled by a company that keeps a tight lid on its finances. The UFC refuses to reveal any details about fighter compensation, but it reportedly relies on base pay combined with a fluctuating, discretionary bonus system that takes into account performance and pay-per-view figures, among other factors. In an ESPN investigation into UFC fighter pay last year, one competitor described the sport's disparity this way: "The top 5 percent [of fighters] are definitely making good money, but the guys at the bottom of the card can't fight anywhere else. If they make $10,000 a fight and fight every six months, they can't make ends meet." In May, the website Bleacher Report got hold of fighter Eddie Alvarez's contract with Zuffa, UFC's parent company, and made quick work analyzing it. Zev Eigen, a law professor at Northwestern University, said at the time that it was one of the "worst" arrangements he'd ever seen in the entertainment industry.
"The truth about UFC fighters," Eigen said in an interview Tuesday with Bloomberg Businessweek, "is they're treated like independent contractors when they should be treated as employees. As employees, there's a whole set of obligations under the law that come to bear. So they're treated as ICs to avoid those laws, which makes life easier for management." Eigen is quick to note that the arrangement isn't unique to the UFC. It's a problem plaguing several industries, including hospitality and restaurants.
Along with partner Lorenzo Fertitta, White purchased the fledgling UFC in 2001 for $2 million and has since transformed it into an estimated $500 million-a-year enterprise. Regardless of the issue of compensation, one could argue that no one has done more to raise the visibility of mixed martial arts, once regarded as competitive fighting's bloody back alley. Senator John McCain (R-Ariz.) once famously called it "human cockfighting." But the UFC is now a fully regulated and global sports body, under a seven-year TV contract with Fox reportedly worth $100 million a year. The fights are available in 148 countries and territories worldwide, with a reach of 1 billion homes.
The UFC didn't immediately respond to requests for comment, but White has been emphatic about the UFC's fairness in the past. "We've gotten the UFC sanctioned in every state except New York," he told me in February. "The government oversees us state to state, and these state regulatory bodies make sure that the fighters get their pay and they get what they're supposed to be paid. They oversee drug testing and make sure the proper medical staff is here. So we're regulated basically the same way boxing is." And he noted that every fighter in the UFC has health insurance. "It's never been done in the history of fighting, in the history of combat sports," he said.
But the issue of pay won't change, argue the sport's critics, unless the fighters embrace collective bargaining and leverage a greater share of the profits. "The problem is that the fighters and managers are terrified of the UFC," says Eigen. "And here Dana White is saying, 'You don't like the pay for lower-level fighters? OK, we're going to redistribute the money and make things better.' I have no doubt that that would make things better—but only to the extent that it relieves the pressure and the shining of the spotlight. But that's just standard social-exchange theory and labor economics 101."
(
Corrects to note Bleacher Report was the original source of details on UFC fighter Eddie Alvarez's contract.
)
Before it's here, it's on the Bloomberg Terminal.
LEARN MORE