The Probe Into BP Oil Spill Payouts Could Be Bigger Than You Think
Paul M. Barrett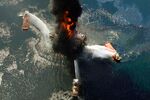 Louis Freeh's investigation of the BP-claims mess could reveal major legal funny business in the Big Easy.
In a recent Bloomberg Businessweek cover story, I explained how the private-claims process following BP's 2010 Gulf of Mexico oil spill devolved into a plaintiffs'-lawyer feeding frenzy. On July 2, I reported that the New Orleans federal judge in the case had called in Freeh, a former FBI director, to probe kickback allegations. Here's why this matters not just to the multibillion-dollar BP litigation, but to the broader world of corporate liability and the American justice system:
Freeh, who since leaving federal service has specialized in investigating scandals such as the Penn State football rape debacle, now has authority as a "special master" to find out whether a court-supervised facility has been paying phony claims with BP's money. So far, a single lawyer on the facility's staff has been suspended amid allegations of kickbacks. More broadly, BP asserts that the facility has paid unspecified amounts in "fictitious" claims.
The court-appointed claims administrator, a lawyer from Lafayette, La., named Patrick Juneau, says he has merely followed the terms of a settlement BP signed last year with open eyes and plenty of high-priced legal advice. U.S. District Judge Carl Barbier of New Orleans, who put Juneau in place, has steadfastly backed the administrator and scolded BP for unsportsmanlike conduct in whining about a pact that shielded the company from potentially greater liability in court.
It will take Freeh months to sort through the profuse records of a payment operation that has doled out more than $2 billion in less than a year. Having dipped into the court records for the above-mentioned magazine piece, I can forecast that he's going to find some pretty surprising claims of damage supposedly related to the 2010 oil disaster. An example from my article:
A construction company in northern Alabama, 200 miles from the coast, was recently awarded $9.7 million, even though it does no work near the Gulf of Mexico, according to court records. Attorneys are submitting claims on their own behalf. A law office in central Louisiana that actually enjoyed improved profits in 2010 collected $3.3 million.
The plaintiffs' lawyers say that such claims are entirely legit under a settlement with stunningly loose terms. Maybe Freeh will agree. You can be sure, though, that he'll look for fishy relationships among the lawyers who have flocked to Juneau's door, thousands of alleged victims in tow.
I speculate that Freeh, no slouch in the forensic-detecting department, will discover what Pentagon planners call a target-rich environment. Consider one plaintiffs'-lawyer solicitation letter I excerpted in the magazine piece: "The craziest thing about the settlement," the attorney in question wrote to potential clients, "is that you can be compensated for losses that are UNRELATED to the spill." (Capitalization and bolding in the original.)
Now, maybe that excited lawyer crossed his T's and dotted his I's. For the sake of justice in the Gulf region, I hope he did. Something tells me, however, that a former FBI director, backed by crack investigators and motivated by a national spotlight, may find that some funny business has been transacted by at least a few members of the bar.
I cannot help thinking of the 2005 case in which a federal judge in Texas discovered a rash of attorney-organized phony silicosis claims against manufacturers, or the 2010 ruling in which a California state judge tossed out a rash of fraudulent pesticide-injury claims against Dole Food, or the pending civil-racketeering suit filed by Chevron in federal court in New York, in which the oil company accuses plaintiffs' lawyers of "ghostwriting" legal documents to win a $19 billion pollution verdict in Ecuador. (The defendants in that last case deny wrongdoing and say Chevron is just trying to deflect attention from its own dirty hands.)
Did lawyers in the Gulf go too far in exploiting the golden goose they had in the BP claims fund? The Freeh investigation should answer this important question.
Before it's here, it's on the Bloomberg Terminal.
LEARN MORE