business
Starbucks Aims for the Afternoon With Soda-Fountain Test
By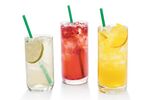 The Starbucks soda-in-Seattle experiment has now expanded east to stores in Austin and Atlanta. The fizzy drinks, described by the company as "handcrafted," are available again at prices starting at $2.49 in lemon ale, spiced root beer, and ginger ale.
What is Starbucks up to? Back in April, when we first reported on the soda effort, a company spokeswoman told Bloomberg Businessweek, somewhat enigmatically, that the goal was to offer a "refreshing cold beverage that is an extension of our current portfolio" but didn't go into further detail about the plans. The spokeswoman, Lisa Passe, declined an interview for this story and said: "We test products to help us understand how new product extensions can fit within our customers' daily routine—throughout the day."
Michael Schaefer, head of beverages and foodservice research at Euromonitor International, notes that margins on soda are not too different from those for coffee and coffee drinks—in other words, they're still high. Beverages at Starbucks generally have a higher gross margin than food, a company executive said during an earnings call earlier this year.
But with the new sodas, Starbucks isn't focused only on introducing additional high-margin items. The chain is trying to attract more customers during afternoon hours when coffee consumption is typically down, Schaefer says. This is also what Starbucks hopes of the Refreshers line, which is marketed as "the perfect afternoon pick-me-up," and sodas add options for parents bringing in children who haven't yet developed a taste for macchiatos. In the past, Starbucks has added other products, including smoothies, food, and wine, with afternoon sales in mind.
Other chains, including Sonic Drive-In and Taco Bell, have focused on boosting afternoon sales with "happy hour" discounts on beverages and snacks. For Starbucks, however, "it's much more about establishing the brand's identity across as wide a range of beverages as possible," says Schaefer. Starbucks has been branching out beyond coffee to include other drinks and baked goods, and it even got rid of the words "Starbucks coffee" from its logo in 2011.
"Starbucks always has an interest in increasing sales outside of the morning," Schaefer adds. "The more beverages they have, the more they can fill that demand and reach different consumers."
Before it's here, it's on the Bloomberg Terminal.
LEARN MORE