Small Business Hiring in June Beat Forecasts: ADP
By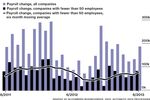 Companies with fewer than 50 employees added 84,000 jobs in June, as the U.S. economy added 188,000 private-sector jobs, according to the ADP Research Institute. Those gains followed a revised increase of 134,000 jobs in May and exceeded the median forecast by 38 economists for an increase of 160,000 jobs, according to Bloomberg News.  Small businesses added more jobs in June than in any month since February, when businesses with less than 50 workers also added 84,000 jobs.
Companies with fewer than 20 employees added 54,000 workers, according to the report, while companies with 20 to 49 employers added 30,000. Service industries accounted for the bulk of small business hiring. "The job market continues to gracefully navigate through the strongly blowing fiscal headwinds," said Moody's chief economist Mark Zandi in the ADP press release. "Job gains are broad based across industries and businesses of all sizes."
The Labor Department's monthly jobs report comes out Friday.