Pimco's Spring Blunder
by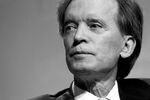 The strategy sounded reasonable enough.
So many central banks were printing money at full tilt that inflation was bound to take hold. So Pimco, the gigantic bond-fund manager, bought inflation-linked Treasuries for much of the spring; the government bonds hedge against inflation by increasing in value with the Consumer Price Index.
At the end of March, Bill Gross's $289 billion Pimco Total Return Fund had 12 percent of its assets in Treasury Inflation-Protected Securities (TIPS). But inflation expectations fell, a turn of events that disproportionately hit TIPS and the fund's performance. Total Return fell 4.7 percent in the two months after March, and in June investors yanked a record $9.9 billion from the fund.
Here's a great piece on this by Bloomberg's Miles Weiss and Alexis Leondis. It shows how the rare strategic misstep can have an outsized impact at the world's largest mutual fund—in a hyper-competitive sector. "The losses," they write, "highlight the challenge Gross faces as he steers Pimco through what's arguably the biggest market challenge for the $2 trillion bond-fund manager since its inception in 1971."
According to Morningstar, Pimco owns about 10 percent of the TIPS market. At the end of the first quarter, Pimco Total Return had about 33 percent of its net assets invested in Treasuries, including $34.3 billion of TIPS. In the second quarter, TIPS fell, thanks to low inflation expectations and sales by funds that used a leveraged investment strategy to increase their bets. The TIPS held by Total Return as of March 31 declined in value by $3.9 billion during the second quarter, according to data compiled by Bloomberg. TIPS represented the biggest hit to Total Return's May performance, says Morningstar analyst Eric Jacobson.
"Inflation expectations haven't budged after three or four years of hyper-easing and now we are looking at an expectation for a Fed that will become less accommodative," says Daniel Shackelford, manager of the T. Rowe Price Inflation Protected Bond Fund. "It was sort of the worst news that the TIPS market could receive."
To add insult to injury, rival bond fund manager Jeffrey Gundlach has vocally avoided TIPS—and outperformed Pimco as a result. "Unless inflation goes higher, then all you have with TIPS is interest rate risk, just like every other Treasury," said Gundlach, the portfolio manager for the $39 billion DoubleLine Total Return Bond Fund, which is down 0.3 percent so far this year. "It's an asset class that is exposed to investor surprise and disappointment." In a webcast last week, Gundlach called TIPS a "disaster" and a "trap."
Pimco's TIPS misadventure brings to mind Gross's bad 2011 bet on Treasuries: He sold ahead of a big rally in government bonds and Total Return lost $5 billion to withdrawals during a year Gross had to confess was a "stinker."
Writ large, the episode shows the difficulty of stewarding such a massive mutual fund—with such outsized buy and sell orders—through volatility.
Before it's here, it's on the Bloomberg Terminal.
LEARN MORE