Israel's Startup Culture Lures MBAs
Elizabeth Rowe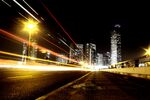 With a burgeoning high-tech startup industry, Israel is quickly becoming a hot new destination for MBA entrepreneurs. Israel & Co., a nonprofit organization that helps plan trips to Israel for graduate and undergraduate students, says the number of trips by MBAs is up 32 percent in two years, from 678 in 2010-11 to 893 in 2012-13.
"I think the key reasons to go to Israel are that you learn about innovation and how to create an environment for innovation, which is a lifelong valuable skill," says Rafi Musher, founder of Israel & Co., adding that Israel partially subsidizes the trips. "[Visitors] also see that everyone is working on something that's big and is a problem—not just a cool app."
Professor Paul Harper of University of Pittsburgh's Katz Graduate School of Business visited Israel with three MBAs from a social entrepreneurship class in April and will return with a group of 20 to 25 students next spring as part of a new interdisciplinary course that Pittsburgh will offer as an element of a three-year pilot program. "The day my students came back from Israel, I made them present at our incoming students weekend," he says. "There are a lot of incoming MBA students who attended this and said, 'I can't wait to take this course with you next year.'"
Harper's trip next spring will include a range of students, from MBAs to medical students. The goal of the course is in part to showcase Israel's R&D strengths as well as its vibrant startup culture and medical device industry. "It is great exposure to what's happening in the Middle East," he says.
Students interested in Harper's class are aspiring entrepreneurs who by and large are not interested in a more traditional corporate path to success. "Their dream is not GE," he says. "They want to be around folks who are starting companies and around the ideas that are going to change the world in five years."
Eran Koren recently graduated from the MBA program at University of Chicago's Booth School of Business and helped organize a trip for a group of 40 second-year MBAs over spring break with Israel & Co. He says that the trip, which included meetings with officials as well as visits to holy sites and an exploration of the country's nightlife, has already generated a considerable amount of buzz for next year.
"We've already assigned new people to lead the trip next year during spring break," Koren says, "They told me they have more than 100 students from their class who already want to sign up for this trip because they heard about the success of our trip."
Join the discussion on the Bloomberg Businessweek Business School Forum, visit us on Facebook, and follow @BWbschools on Twitter.