In U.S. Luxury Race, BMW Catches Up to Mercedes
by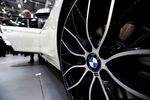 Germany's big luxury auto brands, BMW and Daimler's Mercedes, are in a neck-and-neck race for U.S. buyers.
BMW closed almost entirely what had been a significant U.S. sales gap for the year last month, according to data released Tuesday, delivering almost 27,100 of its cars last month, a 25 percent gain from a year earlier. Mercedes moved almost 24,500 last month for a 9.8 percent increase over the year-earlier tally. For the year to date, only 1,519 vehicles separate the two brands—and Mercedes is still poised to swipe the U.S. sales crown from BMW for the first time since 2010, when Lexus led the luxury category.
There are more than bragging rights at stake. Both companies are trying to lock in younger buyers with smaller, cheaper models, on the assumption that they will stay loyal to the brand as they age and grow wealthier. You've heard of starter homes—think starter luxury cars.
BMW has had to work harder to move its machines. On average over the first five months of the year, BMW conceded 6.8 percent of the value of its cars in incentives to tempt U.S. buyers, according to Edmunds.com data compiled by Bloomberg. Mercedes, meanwhile, sells slightly more expensive vehicles and gave up only 5.4 percent in sweeteners. We won't know what kind of deals either company offered in June until sometime next week, but it will be interesting to see whether BMW continues to put itself in a relatively tight spot on margin.
Before it's here, it's on the Bloomberg Terminal.
LEARN MORE