Growth of China's Service Sector Slows
By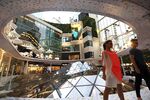 The latest less-than-encouraging news from China's economy: Service-sector companies are seeing lackluster business, according to two separate surveys released July 3. That follows disappointing news showing China's manufacturing growth is also slowing, announced just days earlier.
A government survey by China's National Bureau of Statistics and Federation of Logistics and Purchasing of 1,200 nonmanufacturing companies in 27 industries, including retail, catering, construction, and transportation, showed business activity losing steam, with a reading of 53.9 in June, down from 54.3 the previous month (a reading above 50 shows expansion). A separate private survey conducted by HSBC and Markit Economics, covering 400 private service-sector companies, showed business basically unchanged, at 51.3 in June, compared with 51.2 the month before.
"The underlying growth momentum is likely to be softening for services sectors, along with the slowdown of manufacturing growth," warned Hongbin Qu, Chief Economist, China & Co-Head of Asian Economic Research at HSBC, in a statement released July 3.
This is not good news for China's new leaders, who have recently reiterated a national goal of economic rebalancing. That means moving from an emphasis on investment to one more reliant on consumption, with a crucial need for a bigger, stronger service economy. China's service sector, now at 44.6 percent of the economy, is up 2.7 percentage points from 12 months ago. Still, that's well below the 60 percent of GDP common in most developed countries, reported China's official Xinhua News Agency on May 29.
China's leaders have set a target of expanding service industries to 47 percent of the Chinese economy by 2015, in part because services are a better job creator than the manufacturing sector. The services, or tertiary, sector has created 37 million new jobs over the past five years; that compares with only 29 million new jobs in industry, construction, and utilities combined, estimates Louis Kuijs, chief China economist at the Royal Bank of Scotland in Hong Kong. "The more that China can boost its service sector, the more you can get labor-intensive growth. If you have more labor-intensive growth, more of total income can flow to households rather than to businesses," says Kuijs.
The leadership, too, is well aware that rebalancing will necessitate China growing at a less rapid pace and has been emphasizing quality rather than quantity of growth. "We should never judge a cadre simply by the growth of gross domestic product," said President Xi Jinping on June 29 at a party meeting in Beijing, reported Xinhua.
"Increasing service supplies and improving service qualities will help unleash huge potential in domestic demand, and thus offer firm support for stable economic growth and structural optimization," Premier Li Keqiang said earlier at a services trade fair in Beijing on May 29, reported Xinhua.
"A services-led growth dynamic, one of the pillars for a consumer-led Chinese economy, is consistent with a marked downshift in trend GDP growth," wrote Stephen S. Roach, former chairman of Morgan Stanley Asia, on July 2, in an article on YaleGlobal Online. "That's because services generate about 30 percent more jobs per unit of Chinese output than do manufacturing and construction—allowing China to hit its all-important labor absorption and social stability goals with economic growth in the 7 percent to 8 percent range rather than 10 percent as before."