Gelato Taste Test, From Ciao Bella to Talenti
The high-class ice cream alternative from Italy is taking off in the U.S. Which brand tastes the best?
By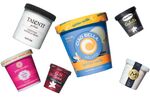 Gelato's different from ice cream: Churned at a slower speed and using more milk that cream, it has less fat. It should be dense and rich and have an appealing elastic texture. We got five gelato experts to judge six of the biggest sellers.

Ciao Bella Tahitian Vanilla
Ciao Bella, co-founded in New York by taste tester Jon Snyder in 1983 (he sold the company in 1989), has grown into a nationally distributed brand of all-natural gelato, sorbet, and Greek fro-yo. It's now made in Eugene, Ore. $4.99
Design
Cecchini: "Like Talenti, it has an Italian name. If I saw it in the supermarket, that would be important to me."
Susie: "I like the colors. And it says, 'Classically exotic'!"
Snyder: "I'm not really into the design. I think it's kind of boring."
Creaminess
Snyder: "Tastes like they haven't messed with the butterfat content too much since I sold them my recipes."
Owen: "I like it!"
Texture
Snyder: "I think the texture and lightness are good."
Kurtzman: "Great texture."
Flavor
Kurtzman: "Not quite enough vanilla flavor."
Susie: "There are little beans in it. Mmm."
Cecchini: "Not too much vanilla, which is good."
Snyder: "It has a very nice vanilla flavor."
Overall grade: A
Häagen-Dazs Vanilla Bean
In April, Häagen-Dazs released its new line of gelato nationally. Available in seven flavors, it's being marketed as "a spoonful of Italy." The company first offered gelato in 1998 but discontinued it four years later. $4.79
Design
Cecchini: "The black is good. You can see the vanilla flower."
Snyder: "It's an iconic Häagen-Dazs container but not an incredible design."
Susie: "I don't love the black-and-gold combo."
Creaminess
Kurtzman: "This uses skim milk, but it's still good."
Cecchini: "It's creamy, and you can taste the milk. This is like Italian gelato."
Texture
Kurtzman: "It's stretchy and has an authentic gelato texture."
Flavor
Snyder: "I'm not tasting vanilla. I don't dislike it, but it's sweeter than I like."
Kurtzman: "It's a good vanilla, but it's missing something. A little salt could bring out the flavor."
Overall grade A-
Maple's Organics Vanilla Bean
Maple's Organics, in Yarmouth, Me., was founded in 2006. The company uses only organic milk from local farms for its gluten-free gelato. $6.49
Design
Snyder: "The design I like. They're trying to do something a little different, so props to that."
Creaminess
Snyder: "There's something lighter going on. It's not heavy."
Texture
Kurtzman: "An acceptable gelato texture."
Flavor
Cecchini: "The flavor's not too strong. In Italy the vanilla's not too strong."
Kurtzman: "I look for dots, and there's not a single dot."
Snyder: "I like this. It's not overly sweet."
Overall grade B+
Talenti Tahitian Vanilla Bean
Talenti, founded in 2003 in Minneapolis, has grown into America's best-selling gelato brand, with more than $49 million in revenue last year. Sales are expected to reach $100 million in 2013. $4.99
Design
Cecchini: "Great packaging. A clean and cool container."
Kurtzman: "The hippie in me says it's not biodegradable."
Owen: "Ooh, la la!"
Creaminess
Snyder: "It's not too heavy. That's a good thing."
Texture
Kurtzman: "Has a good texture—not quite like ice cream."
Flavor
Snyder: "It has a strong vanilla extract that I'm not crazy about."
Overall grade B
Gelato Di Babbo Vanilla Bean
Kim Zanni started Gelato di Babbo in Lititz, Pa., in 2007. She says she designed her recipes to be the "lowest-fat, lowest-cholesterol true gelato on the market." $4.99
Design
Susie: "It's really cute. I love how it's done, but I don't think there should be all different languages, because I can't read it."
Cecchini: "Pink shouldn't be for vanilla—it should be for other flavors."
Creaminess
Kurtzman: "Skim milk makes it lighter."
Texture
Kurtzman: "Definitely fluffy."
Cecchini: "There's too much ice."
Snyder: "It's a little light and fluffy."
Flavor
Cecchini: "Too sweet."
Kurtzman: "There's not enough flavor in it."
Snyder: "It's plain. Some people like that. I like a little more vanilla."
Overall grade B-
G.S. Gelato Tahitian Vanilla
Founded in 1996 by Italian couple Guido Tremolini and Simona Faroni, G.S. Gelato manufactures its product in Fort Walton Beach, Fla. $5.99
Design
Kurtzman: "It really isn't very eye-catching."
Creaminess
Cecchini: "A good mix. Not too watery, not too creamy."
Texture
Kurtzman: "It has dextrose and glucose to make it stretchy."
Snyder: "I don't like it. It has gumminess to it."
Flavor
Snyder: "Doesn't taste like vanilla. It tastes like marshmallow."
Cecchini: "It's more sweet than vanilla should be."
Overall grade C