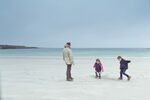 On Tuesday, Pew Research confirmed that single fathers are on the rise.
The new study reveals that the number of single-father households has increased nine times since 1960 and reached 8 percent, or 2.6 million households, in 2011. The number of households headed by single mothers increased dramatically during the same period, quadrupling from 1.9 million in 1960 to 8.6 million in 2011. Still, the proportion of single dads has been rising faster.
"As a result, men make up a growing share of single parent householders," Pew reports. "In 1960, about 14% of single parent households were headed by fathers, today almost one-quarter (24%) are." The study also indicates, intriguingly, that single fathers are less educated than single mothers, but have higher incomes.
To those who worry about the decline of marriage, the statistics are discouraging. But the rise of single dads has an upside: Many more men will need—and demand—job flexibility that will allow them to take care of family responsibilities, which in turn will help women achieve those things, too.
"As long as family issues are miscast as women's issues, they will be dismissed as the pleadings of one interest group among many," Stephen Marche recently wrote in the Atlantic in a piece called "The Masculine Mystique." Men are struggling to "have it all" in much the same way that women are, Marche says, but policies aren't in place to make it possible. "Whether or not the load is being shared 50-50 doesn't matter if the load is still unbearable. It will not become bearable once women lean in, or once the consciousness is raised, or once men are full partners, always, in domestic life. It will become bearable when decidedly more quotidian things become commonplace—like paid parental leave and affordable, quality day care."
As I wrote earlier this year, fathers are going to need to take matters into their own hands. They are beginning to do so.
Before it's here, it's on the Bloomberg Terminal.
LEARN MORE