Apple Hires a Fashion CEO, But He Won't Design IWatches
by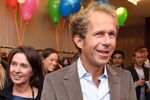 Luxury and technology have taken a step closer together with the announcement that Paul Deneve, head of the Yves Saint Laurent fashion house, is joining Apple. The tech giant confirmed the move on Tuesday, saying Deneve will work on unspecified "special projects" for Apple Chief Executive Officer Tim Cook.
It's the kind of move that was bound to happen, as consumer-tech companies increasingly are judged on their ability to deliver great design and fine craftsmanship while giving customers a sense of belonging to an exclusive club—the same qualities that luxury brands strive for. "We're in an industry that's converging," technology investor Hussein Kanji, a partner in London-based Hoxton Ventures, said on Bloomberg Television on Wednesday. Deneve, he added, "might be the guy to make it fashionable."
Those factors will become even more important as tech companies move into wearable products, such as Google Glass and Apple's expected iWatch. But Apple didn't recruit Deneve to design iWatch wristbands. And despite his success at expanding YSL's global boutique network, the fashion executive won't be running Apple's retail operation (even though that post has been vacant since last year).
Deneve is one of a cadre of managers who have transformed the luxury goods business from a collection of small businesses into a global industry. Their skill lies in the ability to nurture innovation, spot potential best-sellers, and understand the "feel" of a brand while applying practical know-how gleaned from other industries -—everything from mass-market retail to yogurt manufacturing. At YSL, for instance, Deneve has boosted revenues an average 30 percent annually, making it "arguably the hottest brand in the industry," says my Bloomberg Paris bureau colleague Andrew Roberts, who covers the luxury business.
Some of Deneve's know-how comes from Apple itself. The Belgian-born executive worked in Apple's European sales and marketing operation for seven years in the 1990s before its resurgence under Steve Jobs. He then moved into luxury goods, doing stints at Courregès, Nina Ricci, and Lanvin before joining YSL in 2011.
Deneve returns to Apple at a time when its brand has become "a little bit tired," says Richard Windsor, an independent technology consultant. "Everyone's got an Apple product now; it's not exclusive any more." Moving into wearable tech, though, "offers a new growth opportunity," Windsor says. Apple needs to grasp the opportunity quickly, though, as rivals are developing their own wearable devices.
That's where Deneve could come in: making sure that this potential breakthrough product is not only launched speedily, but presented with as much painstaking care as this season's YSL collection.
Before it's here, it's on the Bloomberg Terminal.
LEARN MORE