Reagan National Airport Is Ground Zero in the American-US Airways Merger Review
By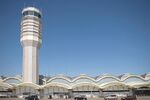 Washington's Ronald Reagan National Airport, the nearest and dearest to Congress's heart, is one of only a few U.S. airports where, in order to fly in and out, airlines must own arrival and departure times. Now the airport and its "slot" system have become a focus of regulatory reviews in the proposed merger of American Airlines and US Airways.
US Airways currently has more than half of National's slots and about one-fifth of the market share there. Combined with American, the new airline would control about two-thirds of the airport's slots—making it a natural target for rival airlines that want regulators to force the company to divest some of those. Delta, JetBlue, and Southwest would all like more Reagan slots.
In defense of their position, executives at American and US Airways have said that if they're forced to give up slots, it will kill air service to smaller cities. "If US Airways or the new American were asked to divest slots, we would, by definition, divest those that are the least lucrative to the airline," US Airways Chief Executive Officer Doug Parker said in March, testifying before a Senate panel. "Those would tend to be service to smaller communities."
The argument rests on the notion that any airline acquiring slots from the new American would not use them to fly to Bangor, Birmingham, Knoxville, or Jacksonville, but would focus on larger cities with more traffic. US Airways says it serves 40 smaller cities from the capital, while low-cost airlines serve only two. That was enough to scare plenty of members of Congress, more than 100 of whom signed a letter from Representative Mike Michaud (PDF), a Maine Democrat, urging the Justice and Transportation departments to let the merged airline keep its slots at Reagan National.
On June 27, Reuters reported that Justice Department lawyers are taking depositions as part of their review of the merger, to preserve testimony if the department decides to impose conditions on its approval or seek to block the transaction entirely.
US Airways shareholders are scheduled to vote on the merger on July 12. A U.S. bankruptcy judge will review the merger for approval on Aug. 15.
Before it's here, it's on the Bloomberg Terminal.
LEARN MORE