Picking Another Fight With States Over Independent Contractors
by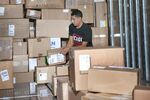 A few years back, Intuit predicted that more than 40 percent of the U.S. workforce would be contingent workers by 2020. The trend, depending who you ask, is driven by people who want to liberate themselves from the strictures of full-time work, or employers that want to avoid the costs (health benefits, payroll taxes) associated with hiring full-time workers.
State governments have taken the latter view. Attorneys general in New York (PDF), Massachusetts, Utah, and other states have launched investigations into employers that misclassify full-time workers as independent contractors. Dozens of state legislatures have passed or considered bills to rein in the practice.
Cracking down on companies that blur the line between employee and contractor makes sense for states, which stand to collect more payroll taxes by limiting the use of independent contractors. Nor is it difficult to understand why employers that rely on contractors are against the crackdowns.
To that end, a group called It's My Business formed last month to lobby government on behalf of independent contractors and the companies that employ them. There are 10.3 million independent contractors in the U.S., including truckers, plumbers, emergency room doctors, and financial advisers, according to the group's website, which contains testimonials like this one from videographer Andy Keatts: "Entrepreneurialism is what built this country, and that is what independent contractors are trying to embrace."
Contractors, who generate $626 billion in annual income in the U.S., are "under siege" by state and federal government agencies engaged in "a multi-front assault on how independent contractors earn their living," the website says. Independent contractors "highly value their work-life flexibility," says former Senator Blanche Lincoln, who's chairwoman of It's My Business. "We don't want to see a target on their backs for no reason."
Who's supporting the campaign? According to the group's website, it has 34 members, including small business associations in California, Wisconsin, and Kansas, an art gallery, a wedding planner, and a few insurance and transportation companies you've probably never heard of. Also: FedEx Ground.
That's interesting, because the shipping company has been at the center of legal battles involving independent contractors for the better part of 15 years. The gist of the litigation is that the company's delivery drivers are classified as independent contractors. As such, they often own their own trucks and delivery routes and don't receive health benefits or paid vacation. As of a March regulatory filing, FedEx was involved in 31 class-action lawsuits claiming the company's drivers should be classified as employees instead of contractors. (You can find more comprehensive accounts of the litigation from Steven Greenhouse in the New York Times or Laurence Viele Davidson and David Mildenberg in Bloomberg News.)
"It's all about fair competition and tax cheats," says Beth Ross, a lawyer at Oakland (Calif.)-based Leonard Carder, who has served as lead attorney on some of the litigation. "When you call a worker an independent worker, people don't have workers' comp. So where do they get their health care? In the emergency room. And who pays for that? This is about the social contract."
In the past, FedEx Ground has said its driver model is legal and that the IRS approved the model for tax purposes in 1994. "For more than a quarter century, FedEx Ground has contracted exclusively with small businesses for pickup, delivery, and transportation services,' spokesman Perry Colosimo writes in an e-mail explaining the company's support for It's My Business. "These companies, which are owned by thousands of enterprising individuals who have taken advantage of opportunities to grow successful businesses, continue to ensure our customers receive fast, reliable service."
In other words: The company's support for It's My Business is also about the company's business.
Before it's here, it's on the Bloomberg Terminal.
LEARN MORE