business
NBC Buys 'The Bible' Sequel and Its Built-In Audience
By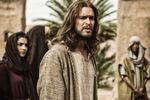 The Bible is making the jump from cable to network TV, as Comcast's NBC said it has struck a deal for a sequel to History's surprise spring hit. NBC's version will be titled A.D.: Beyond the Bible and will pick up after Christ's death, though after that it's pretty open.
An expensive and overtly religious production isn't an obvious fit for a major network these days. Those channels today lean on talent-show TV, which doesn't require high-paid actors and special effects. The Bible, though, comes with a massive built-in audience and a unique and powerful marketing machine. The 10-hour miniseries, produced by reality-TV king Mark Burnett and his wife, Roma Downey, won a huge following, in part by screening previews for religious leaders of U.S. megachurches. Before the première, some pastors even showed their flocks 90-minute making-of documentaries, while Christian groups bought ads in Times Square to tout the show.
The $22 million production and targeted marketing campaign led to some of the best ratings of the year. The show commanded more than 10 million viewers at least twice during its initial run, according to Nielsen, a sort of Holy Grail in TV-land these days. To put that in perspective, The Bible première would have been the fourth-most-watched program on TV last week—including network shows—with about half as many viewers as Game 7 of the NBA Finals.
Terms of the deal were not disclosed, but NBC, which reportedly outbid the History channel for the sequel, is most likely paying pretty dearly for all this. And this isn't the first time NBC has followed History's lead. The cable channel's Hatfields & McCoys miniseries was a major hit of 2012; NBC has reportedly bought a pilot of a show with the same plotline. That raises the question of what's next for NBC. A high-drama treatment of Vikings? A reality show about a bunch of duck-hunting, redneck businessmen? If that doesn't work, there's always mermaids.
Before it's here, it's on the Bloomberg Terminal.
LEARN MORE